Cosmo Specialty Fibers Plans to Restart Dissolving Pulp Mill in Early February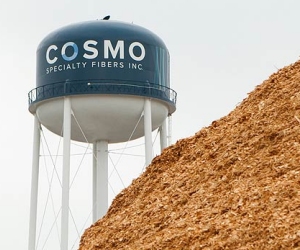 Cosmo Specialty Fibers has the capacity to produce 170,000 metric tons High Purity Cellulose softwood-based products.
Dec. 22, 2020 - Cosmo Specialty Fibers announced plans to have its dissolving wood pulp sulfite mill back to full operation in early February 2021 after temporarily suspending operations in May 2020 due to slowing global economies resulting from the coronavirus pandemic.
The company began the employment recall processes on Deecmber 15.
In a written statement, Cosmo said, "Cosmo has continued to satisfy strategic customer demand through planned inventory and is now experiencing market conditions which warrant restarting. Our customers, many of which supply the global retail clothing sector, have experienced consistent recovery for more than three months, resulting in strong demand for Cosmo lyocell and viscose pulp."
According to the company, during the shutdown it has trademarked its lyocell product, ZhenCel™, an ultra-premium pulp for lyocell production, substantially enhanced product quality, reduced the environmental footprint of the business, and completed several regulatory and maintenance related projects.
"Our decisions are always driven by doing what is best for the long term, and our decision to begin the restart process follows that commitment. Our workforce is healthy and will return in almost full attendance," Cosmo noted.
Located in Cosmopolis, Washington, Cosmo Specialty Fibers has the capacity to produce 170,000 metric tons of High Purity Cellulose softwood-based products, including lyocell, viscose, acetate, ethers, MCC and nitrocellulose dissolving pulp. The mill also works with customers to produce custom applications in rolls or bales. To learn more, visit: cosmospecialtyfibers.com.
SOURCE: Cosmo Specialty Fibers Inc.