SCA to Increase Price for Its NBSK Pulp in Europe to $960 per Tonne, Jan. 1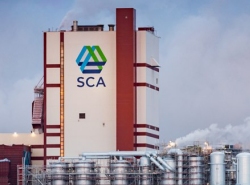 Dec. 18, 2020 - SCA today announced that it will increase the price for its northern bleached softwood kraft pulp (NBSK) to $960 per tonne as of Jan. 1, 2021.
Since October 1, SCA's listed price for its NBSK has been $880 per tonne.
"The pulp demand is strong on all markets," said Henning Ellström, VP Sales and Marketing Pulp. "The price development in Europe has been lagging compared to that in North America and Asia. We want to reduce the gap between Europe and other markets."
Based in Sweden, SCA produces solid-wood products, pulp, kraftliner, publication papers and renewable energy. To learn more, please visit: www.sca.com.
SOURCE: SCA