DS Smith's Belisce Paper Mill Switching to Green Electrical Power in Croatia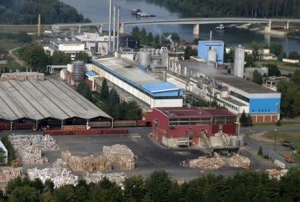 DS Smith's Belisce Paper Mill, situated in Eastern Croatia, expects to reduce carbon emissions by 23% by switching to green energy.
Nov. 12, 2020 - DS Smith today announced that Belisce Paper Mill, situated in Eastern Croatia, has made significant steps forward in CO2 reductions by switching to green energy to help power its paper making operations.
The Belisce Paper Mill, which produces up to 215,000 tonnes of paper per year, is targeting a 23% reduction in CO2 emissions annually, equating to a saving of up to 27,000 tonnes of carbon. This figure equates to removing nearly 6,000 passenger vehicles off roads, or just under 67 million miles driven by an average passenger vehicle*.
HEP Opskrba, an energy supplier based in Croatia, will supply the mill with ZelEn, a green energy produced solely from renewable sources such as solar, wind, geothermal, biogas, eligible biomass, and low-impact small hydroelectric sources.
"We are very proud to have the Belisce Paper Mill and all our operations across Croatia switch to green energy," said Dalibor Sipl, Energy Manager for DS Smith, in Croatia. "Our partnership with HEP Opskrba, who will provide 60% of our energy requirements at the mill, will be a key driver in our overall strategy to reduce the impact of our operations here in Croatia."
DS Smith recently launched it's "Now and Next Sustainability Strategy" which reaffirmed its commitment to reduce CO2 emissions against a 2015 baseline by 30% relative production by 2030. In the past year, DS Smith has hit a number of sustainability milestones including an 11% reduction in emissions in 2019 compared to 2015 on a like-for-like basis.
*According to calculations using U.S. EPA's Greenhouse Gas Equivalencies Calculator.
Headquartered in London, DS Smith is a leading provider of corrugated packaging, supported by recycling and papermaking operations. To learn more, visit: www.dssmith.com.
SOURCE: DS Smith