WCP Solutions Now Offering Domtar Paper in Sacramento Region of California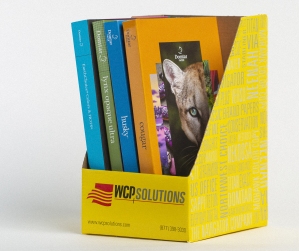 A WCP paper swatch bin with sample swatch books from Domtar including Cougar, Lynx, Husky, and Earthchoice Colors
Nov. 4, 2020 - WCP Solutions today announced that their WCP Sacramento location is officially franchised for the full line of Domtar Paper products.
"We are thrilled to expand our partnership with Domtar by now offering their products to our customers served by our Sacramento division," said tom Groves, CEO of WCP Solutions.
Starting today, customers in the region can now order Domtar products through their WCP account manager or with the local customer service team. Domtar's offering was previously only available in other WCP markets.
The Domtar Paper lines that WCP Solutions is now able to sell include: Cougar®, Husky®, Lynx®, Earthchoice®, Lettermark®, ImagePrint®, and Xerox®. With these added lines, WCP has dramatically increased its offering for commercial printers and creative designers in the Sacramento area.
West Coast Paper Company, dba WCP Solutions, is a wholesale provider of paper, envelopes, packaging supplies and equipment, facility supplies and equipment, and food service disposables. For further information, visit: www.wcpsolutions.com.
SOURCE: WCP Solutions