Cascades Moving Forward with Plans to Convert Idled Newsprint Machine at Bear Island Mill to Recycled Linerboard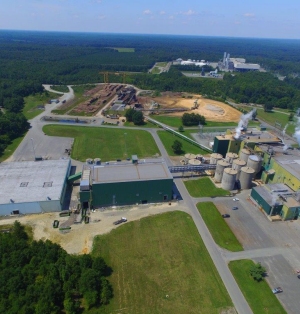 The currently idled newsprint machine at the Bear Island mill will be converted to produce high-quality, lightweight, 100% recycled linerboard and medium for the North American market.
Oct 6, 2020 - Cascades on Oct. 5 announced plans to proceed with the Bear Island mill conversion project located in Virginia. Subject to obtaining final permits, the currently idled newsprint machine at the mill will be converted to a 1st quartile containerboard machine capable of producing high-quality, lightweight, 100% recycled linerboard and medium for the North American market.
Cascades acquired the Bear Island mill from White Birch Paper in July 2018 for US$34.2 million.
According to Cascades, the plant will have an annual production capacity of 465,000 short tons and is scheduled to start up in the fourth quarter of 2022. It will operate at approximately 80% of capacity by the end of 2023, reaching 100% by the end of 2025.
"This investment, one of the largest in our company's history, is a decisive and very important strategic move in the modernization of our packaging assets," said Mario Plourde, President and Chief Executive Officer of Cascades. "By adding the Bear Island mill to our platform, more than 60% of our containerboard manufacturing capacity will be in the top quartile of the industry.
"In addition to offering a unique development platform, this plant will strengthen our geographic positioning and presence in the U.S. and will enhance the competitiveness of our asset base and our product offering regardless of economic conditions.
"From an operational standpoint, Bear Island will also optimize the flexibility of our manufacturing platform by providing a product offering that will be complementary to its sister plant Greenpac, located in Niagara Falls (New York)," Plourde explained. "Bear Island will also offer 100% recycled products with light basis weights. Greatly valued by our current and future customers, these eco-responsible products are particularly well suited for e-commerce."
Cascades noted that as it continues to execute its strategic plan to increase the company's down-stream integration, it will initially convert volume in its existing converting facilities in addition to entering into long term agreements with customers. The remaining tonnage that will initially be sold on the open market is expected to decrease, reducing market exposure.
Founded in 1964, Cascades offers sustainable, innovative and value-added packaging, hygiene and recovery solutions. The company employs 12,000 women and men across a network of over 90 facilities in North America and Europe. For further information, visit: www.cascades.com.
SOURCE: Cascades, Inc.
Go to a related story on paperAge.com:
» Cascades Acquires White Birch Paper's Idled Bear Island Newsprint Mill in Virginia for $34.2 Million - July 26, 2018.