Commercial Development Company Acquires Former WestRock Paper Mill and Related Property in Newberg, Oregon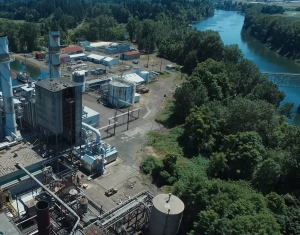 CDC plans to reposition the site to take advantage of the site's development potential, which includes 120 acres of industrial/mixed land, four acres of multi-family land, and 1.5 acres of commercial land. (The picture above was taken in 2016.)
Oct. 5, 2020 - Commercial Development Company, Inc. (CDC) [on Sept. 29] announced its acquisition of a shuttered paper mill in Newberg, Oregon. The site was acquired by CDC affiliate Newberg OR LLC.
The transaction included the acquisition of real estate assets and a corporate indemnification for legacy environmental liabilities associated with the site. CDC affiliate Environmental Liability Transfer, Inc. (ELT) facilitated the transfer of environmental liabilities. CDC and affiliates will now oversee the sale of equipment and demolition of the buildings.
Former owner WestRock acquired the Newberg mill, along with a mill in Dublin, Georgia, from SP Fiber Holdings in October of 2015. The mill, which produced recycled containerboard and kraft paper, was permanently closed in January of 2016.1
CDC said that it will look to reposition the site to take advantage of the site's development potential, which includes 120 acres of industrial/mixed land, four acres of multi-family land, and 1.5 acres of commercial land located in an Opportunity Zone and Enterprise Zone.
"We are excited to expand our redevelopment efforts into the greater Portland area," said Adam Kovacs, Executive Vice President at Commercial Development Company, "Our acquisition of this retired plant is the first step to repurposing the property and moving it back into productive use — the site has phenomenal development potential and we are eager to see the economic benefits this transaction brings to the region."
CDC is currently evaluating all development options and will be meeting with local economic leaders to find end users who could benefit from the large amount of land available and prime location. Additionally, the site has heavy power, easy proximity to the I-5 transportation corridor, and potential for both rail access and significant water rights.
Initial redevelopment activities will include permitting, removal of universal waste, sale of equipment, and demolition of most of the buildings and infrastructure on site. CDC expects the site to be fully demolished and ready for redevelopment by late 2021.
SOURCE: Commercial Development Company, Inc.
1 PaperAge