PULP, PAPER, PACKAGING, TISSUE
Mondi to Sell Syktyvkar Pulp and Paper Mill in Russia for EUR 1.5 Billion
Mondi has entered into an agreement to sell its most significant facility in Russia, Joint Stock Company Mondi Syktyvkar to Augment Investments Limited for a consideration of RUB 95 billion (around EUR 1.5 billion at current exchange rate), payable in cash on completion...
Read more
---
Rottneros Mill to Permanently Shutdown Groundwood Pulp Line; to Invest in More CTMP Capacity
Following an extensive and long-term strategic analysis, Rottneros' Board of Directors has decided to discontinue the production of groundwood pulp at Rottneros Mill (Sweden) as there are no prospects for long-term sustainable profitability. The decision means that about 40 people will...
Read more
---

Complete Paper Converting Facility - Log Debarking & Wood Chip Yard.
---
Mondi to Acquire Burgo's Duino Paper Mill in Italy for EUR 40 Million
Mondi has agreed to acquire the Duino mill near Trieste (Italy) from the Burgo Group for a total consideration of EUR 40 million. The mill currently operates one paper machine producing lightweight coated mechanical paper. Mondi plans to convert this paper machine to produce...
Read more
---
Millcraft Acquires KW Graphics of Springfield, Illinois
The Millcraft Paper Company announced that it has entered into an agreement to acquire KW Graphics of Springfield, Illinois. Founded in 1978 by Karl Williams, KW Graphics has evolved over the last 40 years into one of the premier digital graphics printing and finishing equipment...
Read more
---

What performance goals do you set for your low consistency refiners?
---
Koehler Paper Taking Planned Maintenance Downtime at Oberkirch Paper Mill in Germany
Koehler Paper said that it is taking advantage of the summer period to carry out necessary work on the three paper machines, power plant, and infrastructure at its paper mill in Oberkirch, Germany. In addition to maintenance tasks, the mill is also planning a number of improvements so that when the machines are started up again...
Read more
---
PEOPLE
Rottneros CFO Pia Ohlson to Leave; Monica Pasanen to Take Over
Rottneros announced that Pia Ohlson has decided to leave her position as CFO as of 5 September 2022. As CFO, Ohlson has been a member of group management in Rottneros. "Pia has shown strong leadership and been a highly valued member of the Group's management team with...
Read more
---

Sponsored Content | Ludeca
Wireless Vibration Sensor
Kappa X triax sensor measures vibration & temperature. Combines unrivalled wireless technology, replaceable battery, waterproof, and a 10kHz FMax fault detection.
Watch video
---
INDUSTRY SUPPLIERS
Valmet Investing EUR 18 Million in Press Felt Production in Finland
Valmet said that it is investing EUR 18 million to further develop its press felt production facilities in Tampere, Finland. The investment involves new press felt machinery and equipment, including a new pre-needling line and a new needling line...
Read more
---
BIOPRODUCT DEVELOPMENTS
UPM and Dongsung Chemical Form Strategic Partnership to Develop Renewable Products Using Bio-Based Raw Materials
UPM Biochemicals, headquartered in Germany, and Dongsung Chemical, headquartered in South Korea, have agreed to form a strategic partnership to develop renewable products using bio-based raw materials, initially for footwear materials. UPM is investing EUR 750 million to build...
Read more
---

Massive 2-Day Webcast Auction of International Interest.
---
MARKET INSIGHT - FLEXIBLE PACKAGING
Paper Producers Move Ahead In Developing New Packaging To Replace Single-use Plastic
Amid growing demand for alternatives to single-use plastic, key packaging paper producers in Latin America - such as Suzano, CMPC and Klabin - have accelerated their innovations and set goals to offer new fiber-based materials that can replace plastic. Companies are focusing on the development of linings that resist grease, humidity and/or liquids, as well as...
Read more at Fastmarkets
---
MARKET INSIGHT - CONTAINERBOARD
An Overview of China's Containerboard Supply Status
China has grown to become the largest global containerboard producer since 2008 as regional capacity expansion continues to rise year after year. However, since the start of 2022, there has been almost twice the amount of capacity added to the market by the second largest containerboard producer – the United States. In response...
Read more at Fisher International
---

Planning ahead for just-in-time shipments this peak season.
---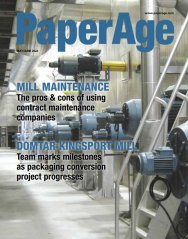 PaperAge - May/June 2022
Our May/June issue features an in-depth article from IDCON that discusses the pros and cons of using contract maintenance companies. The issue also includes an update on the paper machine conversion project taking place at Domtar's Kingsport mill in Tennessee.
The issue is available here as a PDF or by clicking on the cover image. Print copies are available upon request from PaperAge.
BANNER ADVERTISING/SPONSORED CONTENT
If you are interested in banner advertising or sponsored content,
please contact Michael O'Brien
781-378-1253 or by email: mobrien@paperage.com.

About PaperAge's Newsletter
PaperAge's newsletter is delivered internationally to about 5,000 people who
either work in the pulp and paper industry or buy pulp and paper products. If you know of a colleague who may be interested in our newsletter, please forward it or have them visit: www.paperage.com to sign-up. It's free.