ANDRITZ to Supply Heinzel Group with Paper Machine Conversion at Steyrermühl Mill in Austria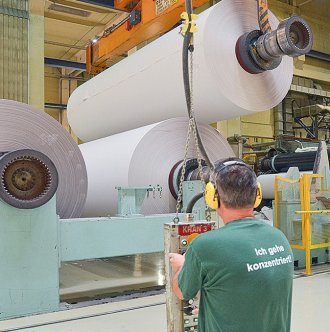 Upon completion of the machine conversion, the Steyrermühl mill's paper machine will produce up to 150,000 tons per year of brown and white low basis weight kraft paper.
July 11, 2023 - ANDRITZ will supply Heinzel Group with a paper machine conversion at Steyrermühl mill in Austria. The project involves the mill's idled newsprint machine, PM3, which will be converted to the production of kraft papers for packaging.
The conversion project has been launched by the Heinzel Group, which will take over the Steyrermühl mill from UPM by January 1, 2024.
Once rebuilt, PM3 will become PM6 and have a design speed of 1,500 m/min and a paper width at the reel of 6,300 mm. The rebuilt machine will produce up to 150,000 tons per year of brown and white low basis weight kraft paper and sold under the Heinzel Group's well-established STARKRAFT brand. The paper will be used for shopper bags, pouches, and other flexible packaging products.
"With this investment, STARKRAFT will become one of the world's leading brands for bleached and unbleached kraft paper," said Werner Hartmann, COO of Heinzel Pöls. "ANDRITZ PrimeLine technology is already successfully operating at our Pöls and Laakirchen mills. The current rebuild by ANDRITZ will help us expand our product portfolio for sustainable packaging."
ANDRITZ's scope of supply includes in addition upgrades of the stock preparation, approach flow, and broke handling systems as well as extensive upgrades of the automation systems (DCS, QCS, MMD), detail engineering packages, and mechanical erection. In addition, the existing steam and condensate system will be redesigned and upgraded, which will contribute to saving energy.
Start-up of the rebuilt machine is scheduled for the beginning of 2024.
ANDRITZ Pulp & Paper provides sustainable technology, automation, and service solutions for the production of all types of pulp, paper, board and tissue.
SOURCE: ANDRITZ
Read a related article at PaperAge: Heinzel Group to Convert Idled Paper Machine at Steyrermühl Mill to Kraft Papers - March 6, 2023.