Klabin Launches Multipack Card with Microfibrillated Cellulose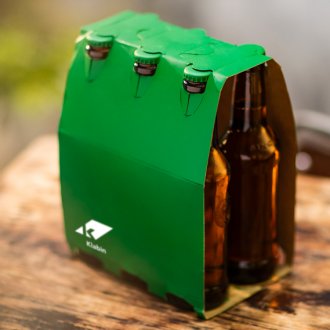 Klabin uses microfibrillated cellulose (MFC) to further improve the quality and application in certain segments, such as the Klamulti Premium Carrier, a multipack card for the of cans and bottles.
June 23, 2022 - Klabin has just developed a new version of its paperboard aimed at beverage packaging (multipack), Klamulti, which now includes microfibrillated cellulose (MFC) in the composition. The novelty, led by the Product Development teams and the Klabin Technology Center, was produced at the MFC plant, located in Telêmaco Borba (PR).
According to Klabin, the developments proved that the addition of MFC in the composition of paperboard significantly improves the properties and performance of the product, allowing the reduction of its grammage. In this way, the new solution is able to create lighter and more resistant packaging, improving material efficiency.
The MFC production process develops the microfibrillation of the walls of the cellulose fibers, allowing a greater area of connection between them and, thus, increasing the mechanical strength of the paper, Klabin explained.
"Klabin's paperboard lines use different fiber compositions to ensure the best relationship between rigidity, structure, strength and print quality," said Flavio Deganutti, director of Klabin's Paper Business. "Each version of the portfolio has been carefully developed to produce the best results in our customers' processes. Leveraging these qualities by optimizing resources is a differential for the company."
Klabin is on of Brazil's leading producers of papers and paperboard for packaging, industrial bags and corrugated board packaging. To learn more, visit: www.klabin.com.br.
SOURCE: Klabin