Valmet to Convert Fine Paper Machine at VPK's Alizay Mill to Containerboard Production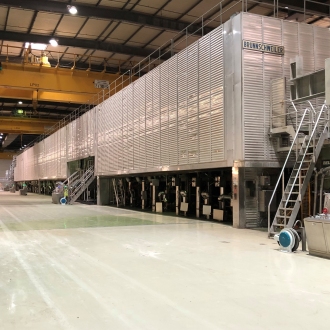 Upon completion of the project, the rebuilt machine will have the capacity to produce 450,000 tonnes per year of recycled lightweight containerboard (fluting and testliner grades).
Dec. 17, 2021 - Valmet will supply a grade conversion rebuild to VPK's Alizay mill in Normandy, France. The mill's paper machine, which currently has the capacity to produce 300,000 metric tonnes per year of uncoated woodfree paper, will be rebuilt to produce recycled lightweight containerboard grades.
The value of the order will not be disclosed.
Valmet's grade conversion delivery will include a new approach flow system, modifications to the headbox, a shoe and blade technology upgrade in the forming section, and a new OptiPress Center press section to improve drying and runnability. The drying section will be updated into OptiRun Hybrid.
The delivery will also include an extensive air systems upgrade. The delivery will be complemented with improvements in the automation system, including machine control systems, sectional drive control systems, quality management systems, process control systems, and a paper machine clothing package.
Upon completion of the project, the rebuilt machine will produce fluting and testliner grades in a basis weight range of 75-135 g/m2. The design speed of the machine will be 1,300 m/min with a production capacity of 450,000 tonnes per year.
Start-up is scheduled for the end of 2022.
About VPK Group
VPK Group produces recycled paper, corrugated cardboard packaging, solid board packaging and cores. VPK has a strong presence in France with three paper mills, nine corrugated box plants and one core winding plant. In addition to VPK Packaging, VPK Group's overall brand portfolio includes Corex for the production of core board and cores, Smart Packaging Solutions for the production of solid board packaging and Aquila for the production of corrugated board sheets.
SOURCE: Valmet and VPK Group