AF&PA Elects Board of Directors and Welcomes New Members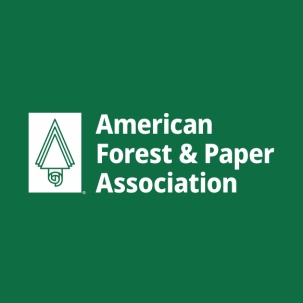 Nov. 12, 2021 - The American Forest & Paper Association (AF&PA) has announced the election of its new 2022 Board of Directors members:
Robyn Buss, Ahlstrom-Munksjö
Regina Gray, The Procter & Gamble Company
Brian Janki, PaperWorks Industries, Inc.
Dan Kraft, The Kraft Group
Randy Nebel, Verso Corporation
Byron Racki, Pactiv Evergreen Inc.
Jean-Michel Ribiéras, Sylvamo Corporation
Five current Directors were also re-elected:
Craig Anneberg, North Pacific Paper Company, LLC
John Carpenter, Nippon Dynawave Packaging
Mike Haws, Sappi North America
Remi G. Lalonde, Resolute Forest Products
Mark Sutton, International Paper
These members were elected during AF&PA's Presidents Forum on October 28, 2021, and will serve three-year terms, beginning on January 1, 2022.
"The AF&PA Board of Directors represents the best in leadership from the paper and wood products manufacturing industry," said Michael Doss, AF&PA's Board Chair and Graphic Packaging International, LLC, President and CEO. "These newly elected directors bring a wealth of knowledge, expertise and strategic guidance to help achieve AF&PA's mission and values. Their partnership will advance our industry forward on key initiatives, including our Better Practices, Better Planet 2030 sustainability goals."
In addition to announcing these newly elected directors, AF&PA also welcomed new company, associate and association members in 2021:
Company Members:
Sylvamo Corporation
Cosmo Specialty Fibers
Verso Corporation
Associate Members:
Footprint
Arandell
Ranpak
Association Member:
Envelope Manufacturers Association
"These members join AF&PA at a time when our growth continues with broad industry support and representation across many sectors," said Heidi Brock, AF&PA President and CEO. "Each new member is an added voice at our table, and ultimately, they help make our association stronger as we continue our advocacy work ahead."
To see the current directory of AF&PA members, visit: afandpa.org/our-members
About AF&PA
The American Forest & Paper Association (AF&PA) serves to advance U.S. paper and wood products manufacturers through fact-based public policy and marketplace advocacy. The forest products industry is circular in nature. AF&PA member companies make essential products from renewable and recyclable resources, generate renewable bioenergy and are committed to continuous improvement through the industry's sustainability initiative – Better Practices, Better Planet 2030: Sustainable Products for a Sustainable Future.
The forest products industry accounts for approximately four percent of the total U.S. manufacturing GDP, manufactures nearly $300 billion in products annually and employs approximately 950,000 people. The industry meets a payroll of approximately $60 billion annually and is among the top 10 manufacturing sector employers in 45 states. Visit AF&PA online at www.afandpa.org or follow us on Twitter @ForestandPaper.
SOURCE: American Forest & Paper Association (AF&PA)