Voith to Rebuild Schumacher Packaging PM 2 in Myszków, Poland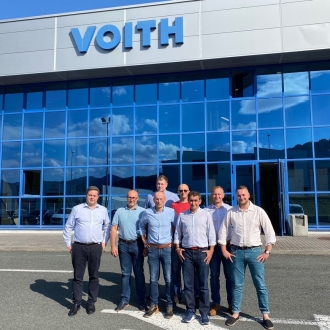 Nov. 3, 2021 - Schumacher Packaging, a corrugated board producer and full-range supplier of paper-based packaging solutions, has commissioned Voith to rebuild PM 2 at its Myszków site in Poland. After the rebuild, the line will double its production capacity of lightweight containerboard from 500 to 1000 tons per day.
As part of the rebuild scope, Voith will upgrade the OCC stock preparation with technologies from the BlueLine portfolio, and the paper machine will be extensively modernized with state-of-the-art machine concepts and a new VariFlex NG high-performance winder.
Voith is placing a special focus on high availability, technological efficiency, process stability and sustainability with the lowest possible energy balance for the plant. In addition, Schumacher Packaging benefits from simple and safe operation of the machines, as well as the extensive technological knowledge of Voith experts. Another focus will be on minimizing the maintenance and servicing effort.
"With the rebuild, we will deliver to Schumacher Packaging a customized solution at the highest level," says Martin Bassmann, President Products & Services EMEA at Voith Paper. "This means that production capacity, efficiency and quality can be significantly increased."
On the paper machine, the wire section will be rebuilt to a DuoFormer D and equipped with a new MasterJet Pro-F/B headbox and a DuoShake DG 800 to ensure the best possible quality in regards of profiles and paper strength. In addition, the press section will be renewed and equipped with Voith´s Tandem NipcoFlex technology, which significantly increases the dry content and capacity and reduces specific steam consumption. The fully automatic VariFlex winder uses proven technology and ensures stable winding quality at maximum speed thanks to an integrated drive control system and unique hydrodynamic vibration damping system.
The line is scheduled to start up again in mid-2023 after a short rebuild period.
Voith Paper, part of the Voith Group, is the full-line supplier to the paper industry, providing a wide range of technologies, services, components and products, and offers paper manufacturers solutions from a single source. To learn more, visit: www.voith.com.
SOURCE: Voith Group