International Wood Products Association Names Bradley McKinney as New Executive Director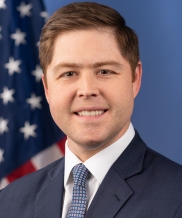 Brad McKinney
Sept. 20, 2021 - The International Wood Products Association (IWPA) announced that Bradley McKinney has been selected to serve as the new executive director of the organization. He assumed the role on September 13.
McKinney brings a broad range of experience to IWPA, with a strong background in government affairs and public policy from his experience in the public and private sectors focusing on international trade, agriculture, and manufacturing.
"We are very enthusiastic about the hiring of Bradley McKinney and the smooth transition in leadership of IWPA," said IWPA President Michael Schultz of Floor and Decor. "Brad brings a successful track record across both the legislative and executive branches of the federal government in addition to his private sector experience. This unique perspective will serve our association well as we tackle the many challenges and opportunities before us."
McKinney most recently served as Vice President of Economic Security and Operations for the Export-Import Bank of the United States, prior to which he served as Chief of Staff for the International Trade Administration at the U.S. Department of Commerce. He also provided legislative and regulatory affairs services on a range of issues related to international trade, agriculture and manufacturing while on staff at the National Association of State Departments of Agriculture and two private consulting firms.
Established in 1956, the International Wood Products Association is the leading international trade association for the North American imported wood products industry, representing nearly 200 companies and trade associations engaged in the import of hardwoods and softwoods from sustainably managed forests. Association members consist of three key groups involved in the import process: U.S. importers and consuming industries, offshore manufacturers and the service providers that facilitate trade. To learn more, visit: www.iwpawood.org.
SOURCE: International Wood Products Association