Domtar Completes Sale of Personal Care Business for $920 Million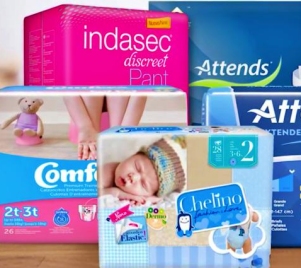 Domtar's Personal Care manufactures, distributes, markets, and sells adult incontinence, infant, and related personal hygiene products.
March 2, 2021 - Domtar on March 1 announced that it completed the previously disclosed sale of its Personal Care business to affiliates of American Industrial Partners for $920 million. This divestiture is a significant milestone in the Company's strategic transformation to become a leading paper, pulp and packaging company.
"The sale of The Personal Care business is part of our ongoing effort to strategically optimize our portfolio and allows us to strengthen our balance sheet, enhance liquidity and buy back shares," said John D. Williams, President and Chief Executive Officer. "I want to thank the employees for their hard work and dedication throughout the process, and for their contributions over the years."
Following the closing of the sale, Michael Fagan, President of Domtar Personal Care, will continue leading the Personal Care business and leave Domtar.
"On behalf of the Board and Management Committee, I would like to thank Mike for his leadership and exemplary service," Williams added.
The Company plans to use $600 million of the proceeds to reduce debt and $300 million to repurchase shares.
Domtar is a leading provider of a wide variety of fiber-based products including communication, specialty and packaging papers, market pulp and absorbent hygiene products. To learn more, visit: www.domtar.com.
SOURCE: Domtar Corporation