Sappi to Implement New Barrier Coating Technology for Functional Paper Packaging at Alfeld Mill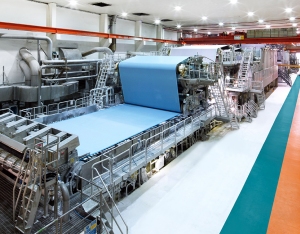 Adding barrier coater capacity at Alfeld Mill in Germany further upscales Sappi's capabilities, bringing the combination of paper, dispersion and coating technology to more customers. Pictured above: PM2 at Alfeld Mill.
Jan. 12, 2021 - Sappi Europe today announced plans to introduce new barrier coating technology for functional paper packaging at its speciality mill in Alfeld, Germany.
"Expanding the use of our proprietary barrier coating technology underpins Sappi Europe's drive to maintain our leading position in barrier coated paper as well the commitment we have with our customers in developing innovative future focused packaging solutions which contribute towards a sustainable future," said Berry Wiersum, CEO Sappi Europe.
In a written statement, Sappi Europe said, "The demand for paper and paperboard packaging continues to rise dramatically as consumers become increasingly mindful of the impact their buying choices have on the environment. The call for innovative, truly sustainable solutions has never been louder. Sappi is striving to support its customers to go beyond traditional film and foil-based material solutions, growing its products ranges to meet the demands of our ever-changing world.
"Adding barrier coater capacity at Alfeld Mill further upscales our capabilities, brings this unique combination of paper, dispersion and coating technology to more customers, and enables Sappi to offer customers even more competitive and attractive paper packaging solutions."
Sappi Europe expects to begin commissioning the new products in mid-2022.
About Alfeld Mill
The Alfeld Mill produces speciality paper products on five paper machines and has an off-line coater. The mill has the capacity to produce 275,000 tons per year of coated and uncoated speciality paper in weights ranging from 17 g/m2 up to 400 g/m2 in a variety of finishes. An integrated pulp mill on the same site produces 120,000 tons per year of totally chlorine-free (TCF) bleached chemical pulp used by the paper mill.
Sappi Europe is a division of Sappi Limited (JSE), headquartered in Johannesburg, South Africa, with 12,500 employees and 19 production facilities on three continents in nine countries, 37 sales offices globally, and customers in over 150 countries around the world. To learn more, visit: www.sappi.com.
SOURCE: Sappi Europe