Grupo Gondi Starts-up New Containerboard Machine at Its Mill in Monterrey, Mexico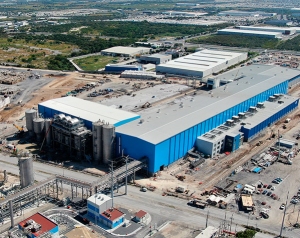 Grupo Gondi's new paper mill, Papel y Empaques Gondi Monterrey, in Northern Mexico.
Jan. 6, 2021 - Grupo Gondi announced that it has started up a new containerboard machine at the company's new paper mill, Papel y Empaques Gondi Monterrey, in Northern Mexico.
The new machine, PM7, started up after 25 months of construction and installation and produced its first paper reel at 2 p.m. on Jan. 5.
PM 7, which was supplied by Voith, has a working width of 6.660 mm at the reel and a design speed of 1,200 m/min. The machine will produce testliner and corrugated medium with basis weights in the range of 90 to 250 g/m2 and have the capacity to produce 400,000 metric tons per year.
"Today, Grupo Gondi proudly announces the startup of its new PM7, the most modern recycled container board mill in Latin America," said Eduardo Posada, CEO of Grupo Gondi. "After reaching stock on wire some days ago we managed to have paper on reel today. This represents a crucial step to the beginning of our productive process.
"We will continue working to achieve the established goals for what will be the most innovative low basis weight recycled CB mill of Grupo Gondi, Mexico and Latin America," Posada added. CEO.
With the startup of the new paper mill and machine, the installed capacity of Grupo Gondi will reach a capacity of 1.1 million metric tons of paper production per year.
Grupo Gondi is one of the leading paper packaging suppliers in the Mexican market. To learn more, visit: grupogondi.com.
SOURCE: Grupo Gondi