Clampitt Paper President Tom Christian Retires, Scott Hider Named Successor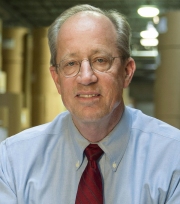 Tom Christian
Nov. 13, 2020 - Clampitt Paper today announced the retirement of its president Tom Christian. Christian has served as president of Clampitt Paper since December of 2014 and first joined the company in 1976.
"Tom is a rock star and he's helped Clampitt grow into new geographies and build market share," said Don Clampitt, Chairman and CEO. "We're going to miss him but sure wish him well."
Succeeding Christian is Scott Hider, who most recently served as the firm's vice Vice President of Sales and Wide Format. Before that, he was the Sales Manager for Clampitt's Dallas operations and was the recipient of the coveted Max Clampitt Sales Award.
Scott Hider
"Scott has proven himself over and over again throughout the past 27 years," Clampitt said. "I'm really proud of all he has accomplished and expect great things will result as he tackles this new level of responsibility."
Clampitt Paper also announced the promotion of Andrew Snyder to Chief Operating Officer. Snyder previously served as Vice President of Operations. In a related move, Charles Myers has been promoted to Vice President of Operations. Myers most recently held the position of Director of Customer Service and Purchasing.
Clampitt Paper Company was founded in 1941 and specializes in wholesale paper distribution throughout the Southwest. The firm employs over 200 people across all locations. To learn more, visit: www.clampitt.com.
SOURCE: Clampitt Paper Company