Domtar to Enter Containerboard Market with Kingsport Mill Conversion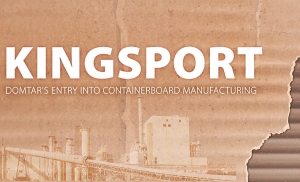 According to Domtar, containerboard is North America's largest pulp and paper market, and it has good long-term growth prospects. It's a 40-million-ton market today, and it's growing by about 2 percent (or approximately 800,000 tons) each year.
Sept. 16, 2020 (Domtar News) - Over the last two years, Domtar has evaluated the merits of repurposing key paper machines as we adjust our white paper production capacity to match our customer demand. That's why we recently announced we are converting our Kingsport, Tennessee, paper mill into the company's first containerboard facility.
Similar to previous decisions that have adapted our mills, like the 2016 conversion at our Ashdown Mill to produce fluff pulp, containerboard manufacturing is an exciting new market that directly aligns with our expertise and more than 100-year legacy of turning fiber into useful products. We're excited about this move, and here are a few reasons you should be too:
Containerboard Is Versatile and Sustainable
Containerboard is a type of paper used to make cardboard. If you're looking at a cross-section of cardboard, you'll notice the corrugated medium between two sheets of linerboard paper.
Containerboard is widely used as a packaging material because it is versatile, lightweight, strong and renewable. It supports a variety of industries, including food products, consumer packaged goods, manufacturing and distribution, and it aligns with many of today's megatrends, including growth in e-commerce and sustainability.
Containerboard Is a Large and Growing Market
Containerboard is North America's largest pulp and paper market, and it has good long-term growth prospects. It's a 40-million-ton market today, and it's growing by about 2 percent (or approximately 800,000 tons) each year.
Once the Kingsport Mill conversion is complete, which we expect will be in the first quarter of 2023, we'll be able to produce and market about 600,000 tons of high-quality recycled linerboard and corrugated medium annually on North America's premier lightweight containerboard machine. That level of capacity will make Kingsport the second-largest recycled containerboard mill in North America.
Kingsport Is an Ideal Location
Producing recycled containerboard requires a good supply stream of recycled paper materials like boxes, chipboard, office paper and newsprint. Finding that material won't be a problem. We can source it from 72 recovered-paper suppliers with 116 locations in a seven-state radius.
Thanks to a high-quality paper machine capable of producing about 4,500 feet per minute, Kingsport Mill has the potential to become one of the lowest-cost recycled containerboard mills in the United States. Its central location in the Southeastern United States means it's also geographically positioned to be the go-to supplier to more than 60 independent box makers across the region, representing nearly 4 million tons of annual containerboard demand.
"Repurposing the Kingsport Mill provides Domtar with an excellent strategic entry point into a growing market with a very competitive, low-cost asset," says Domtar President and CEO John Williams. "We view this as a strategic first step toward building a large value-adding business in the containerboard market."
We're Still Committed to Paper
Our entry into the containerboard market doesn't mean we have plans to stop making paper. Our uncoated freesheet business is a critical part of our financial success, and we're committed to maintaining our long-standing position as North America's leading uncoated freesheet producer. Repurposing Kingsport Mill is an important part of our long-term strategic plan to build a large and cost-competitive containerboard business while balancing our uncoated freesheet capacity with customer demand.
The conversion represents an exciting next step in Kingsport Mill's more than 100-year history in the Northeast Tennessee community.
"We're proud of our long history in Kingsport and strong partnership with the community," says Kingsport Mill Manager Marty Barfield. "The mill has an outstanding reputation for employing local talent and giving back. We've had many generations of families working here, and we look forward to continuing that tradition for many years to come. We are very excited about developing a new focus and culture once our transformation is complete."
Domtar is a leading provider of a wide variety of fiber-based products including communication, specialty and packaging papers, market pulp and absorbent hygiene products. With approximately 9,700 employees serving more than 50 countries around the world, Domtar is driven by a commitment to turn sustainable wood fiber into useful products that people rely on every day. Domtar's annual sales are approximately $5.2 billion. For further information, visit: www.domtar.com.
SOURCE: Domtar Corporation