ABB to Upgrade Paper Machine Drives, Motors and Electrical Control Systems for PM12 at WestRock's Longview Mill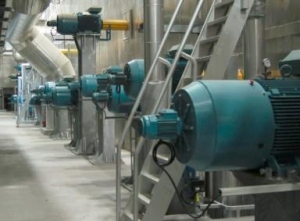 The upgrade of PM 12's dry end drive system includes replacement of drives and motors, and the installation of the ABB Ability System 800xA control system.
March 18, 2020 - ABB announced that it will replace the dry end drive system for paper machine 12 (PM12) at WestRock's paper mill in Longview, Washington. This includes upgrades to PM12's drives and motors, and the installation of the ABB Ability™ System 800xA control system.
"ABB was chosen for this project based on the customer's positive experience with our drives systems at its Longview mill and other WestRock sites," said Steve St. Jarre, Head of Business Development, Pulp and Paper, Process Industries, ABB. "We were able to provide a cost-effective, phased approach to this upgrade project. We set up a new 800xA system to control both existing and new drives. The existing drives can be replaced as needed and use the same control platform as the mill evolves."
The new ABB drive system will have a smaller footprint and require minimal parts. The modular drives are extremely compact, but with all of the parts easily accessible. This not only reduces interruption to production for planned and unplanned maintenance, but also reduces spare part inventories.
"With our aim of improving reliability and productivity, without the need for extensive downtime during installation, ABB offered a practical approach to achieve our goals," said Rick Siragusa, Project Manager at WestRock. "We look forward to moving forward with the replacement."
Installation and commissioning of the project is planned for completion by year-end 2020.
ABB is a pioneering technology leader with a comprehensive offering for digital industries with four customer-focused businesses: Electrification, Industrial Automation, Motion, and Robotics & Discrete Automation, supported by its common ABB Ability™ digital platform. To learn more, visit: wwww.abb.com.
SOURCE: ABB