Sappi North America Receives 2019 SEAL Business Sustainability Award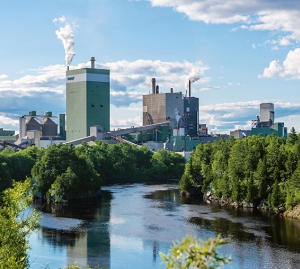 Sappi received the award for the Land Application Program at its Cloquet, Minnesota mill, which has the capacity to produce 340,000 metric tons of coated woodfree paper and 340,000 metric tons of dissolving wood pulp.
Feb. 27, 2020 - Sappi North America, Inc. was named a winner in the 2019 SEAL Business Sustainability Awards for Environmental Leadership. The award honors companies for specific environmental and sustainability initiatives measured by key criteria including impact metrics, innovation, insights and investment efforts. Sappi is a recipient of this award for the Land Application Program at its Cloquet, Minnesota mill and is among notable winners including Adidas, Disneyland Resorts, Tide Eco-Box and others.
The Cloquet mill's program began in 2004 in order to develop a solution to an impending challenge with landfill space. The Land Application Program repurposes boiler ash and lime mud byproducts into a sustainable agricultural fertilizer which is accessible to the local community at a minimal cost. Through the years, the program's dedication to waste reduction and efficiency have provided these natural byproducts to farmers, which reduces the commercial chemical products needed for high-quality growing conditions in the region.
To date, Sappi North America has provided 200 tons of materials to 300 sites per year, with some farmers seeing a 30 percent increase in crop yield.
"Our investment in sustainable production and waste is a continued priority for the leadership team at Sappi and this award is a proud moment for the all the employees and community members involved," said Tom Radovich, Managing Director of Cloquet Mill, Sappi North America. "The accomplishments of this program are possible because of the combined efforts with the Minnesota Department of Agriculture's ag-lime program and the Minnesota Pollution Control Agency, both of which we look forward to developing more opportunities with for waste repurposing and other sustainable benefits."
Sappi North America's Cloquet mill is the only current participant of the Land Application Program. Company leadership continues to develop similar programs to reduce waste effectively across other mills in the effort to reach the goal of zero-waste facilities.
Sappi North America, headquartered in Boston, Massachusetts, employs over 2,000 individuals at its three mills, sheeting facility, Technology Center, and supporting offices across the U.S. Altogether, the sites produce 1.35 million metric tons of paper, and over 800,000 metric tons of kraft and dissolving wood pulp (DWP) annually. For further information, visit: www.sappi.com.
SOURCE: Sappi North America