ANDRITZ to Supply Pulping Equipment and Technology for UPM's New Eucalyptus Pulp Mill in Uruguay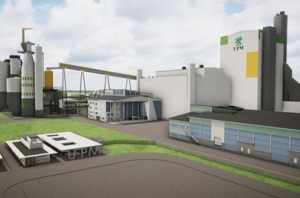 UPM is investing USD 3 billion to build a 2.1 million tpy eucalyptus pulp mill in Uruguay. Beyond the pulp mill, the investment includes a pulp terminal in the port of Montevideo as well as investments in local facilities in Paso de los Toros.
Feb. 11, 2020 - ANDRITZ announced that it will supply energy-efficient and environmentally friendly equipment and processes for all main process islands in fiber production and chemical recovery for UPM's new pulp mill to be built near Paso de los Toros in central Uruguay. When operational, the eucalyptus pulp mill will have an annual production capacity of 2.1 million tonnes. Start-up is scheduled in the second half of 2022.
The value of the order was not disclosed.
ANDRITZ said that the core equipment will originate largely from its operations in Finland, which will result in a significant positive employment impact for its staff there as well as the company's workshops where a large part of the core equipment for this contract will be manufactured.
The ANDRITZ scope of supply includes a complete wood processing plant, the world's largest single-line fiberline, a new EvoDry Pulp Drying System with two energy-efficient pulp drying lines, an energy-efficient black liquor evaporation plant, an HERB recovery boiler, a biomass-fired power boiler (fuels include bark, harvesting residues and sludges from the mill), and a complete white liquor plant.
ANDRITZ noted that it also supplied a complete pulp mill in Fray Bentos, Uruguay, which was started up successfully in 2007 and is now owned by UPM.
ANDRITZ Pulp & Paper is a global supplier of equipment, systems and services for the production and processing of all types of pulps, paper, tissue, and board. To learn more, please visit: www.andritz.com
SOURCE: ANDRITZ
Go to a related article on PaperAge.com:
» UPM Says "Full Speed Ahead" for USD 3 Billion Pulp Mill Project in Uruguay - Jan. 3, 2020