Verso Announces Capital Return Targets
Jan. 16, 2020 (Press Release) - Verso Corporation (NYSE: VRS) ("Verso" or the "Company") today announced that promptly following the consummation of the proposed sale of Verso's Androscoggin and Stevens Point mills to Pixelle Specialty Solutions (the "Pixelle Transaction"), the Verso Board intends to return net proceeds from the Pixelle Transaction to stockholders in an aggregate amount of up to $282 million and not less than $225 million.
The following charts illustrate the breakdown of the estimated net proceeds and uses of net cash proceeds from the Pixelle Transaction: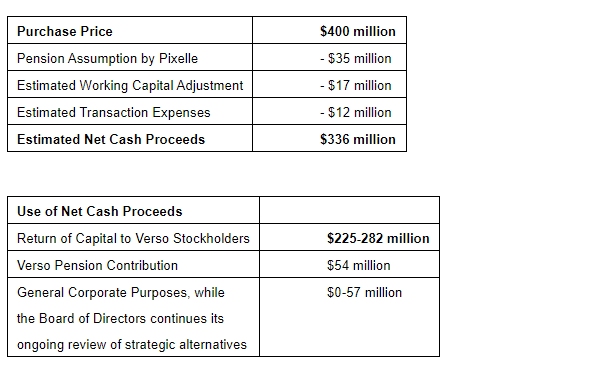 The Verso Board expects that the return of capital will be made by way of dividends, share repurchases, conducted either by way of modified Dutch tender offer, accelerated share repurchase program or open market purchases, or a combination of dividends and share repurchases, taking into account the then composition of the Company's broad and diversified shareholder base. Pension contributions are expected to be made in fiscal year 2020 and to offset estimated tax liabilities.
Following the closing of the Pixelle Transaction, Verso will continue to be a debt-free, streamlined company with significant financial flexibility. The Company expects that its remaining mills will continue to provide strong operating cash flow with low SG&A expenses, and that Verso will be well positioned to respond to industry trends and to take advantage of opportunities with high-risk adjusted returns. As previously announced, the Verso Board, as disciplined stewards of capital, intends to continue its strategic review in order to create and maximize shareholder value.
The Pixelle Transaction requires the affirmative vote of a majority of shares outstanding. Each stockholder's vote FOR the Pixelle Transaction is imperative and will ensure the opportunity for stockholders to receive net proceeds from the transaction.
Verso stockholders of record at the close of business on December 16, 2019, are entitled to attend and vote at the Company's upcoming 2019 Annual Meeting of Stockholders to be held on January 31, 2020. The Company's proxy statement and other important information related to the Annual Meeting can be found online at www.stockholderdocs.com/VRS.
About Verso
Verso Corporation is the turn-to company for those looking to successfully navigate the complexities of paper sourcing and performance. A leading North American producer of specialty and graphic papers, packaging and pulp, Verso provides insightful solutions that help drive improved customer efficiency, productivity, brand awareness and business results. To leaqrn more, visit: versoco.com
SOURCE: Verso Corporation