Canfor and Great Pacific Terminate Arrangement Agreement, Canfor to Remain a Public Company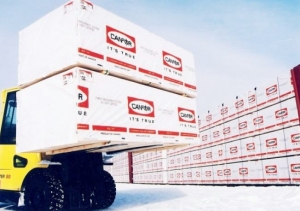 Dec. 17, 2019 - Canfor Corporation (TSX:CFP) has agreed with Great Pacific Capital Corp. and 1227738 B.C. Ltd. (the "Purchaser"), a wholly-owned subsidiary of Great Pacific, to terminate the previously announced arrangement agreement dated October 28, 2019 (the "Arrangement Agreement") with respect to the proposed plan of arrangement (the "Arrangement") of Canfor.
Based on the Canfor shareholder votes cast by proxy prior to the December 16, 2019 proxy cutoff, the "majority of the minority" vote required to approve the Arrangement pursuant to Multilateral Instrument 61-101 – Protection of Minority Security Holders in Special Transactions, will not be achieved. Approximately 45% of the votes cast by proxy by minority shareholders as at the proxy cutoff were in favour of the Arrangement.
The special meeting of Canfor shareholders, scheduled for Wednesday, December 18, 2019 at 9:00 a.m. (Vancouver time), has been cancelled.
Pursuant to the Arrangement Agreement, the Purchaser will pay 50% of the actual reasonable out-of-pocket expenses incurred by Canfor in connection with the Arrangement from the date of the Arrangement Agreement to the date hereof. AST Trust Company (Canada), as depositary for the Arrangement, will be returning any physical share certificates that have been submitted by shareholders of Canfor in connection with the Arrangement forthwith in accordance with the instructions contained in the letters of transmittal.
Canfor plans to continue to diversify its business and pursue growth strategies in positioning itself for long-term success and sustainability.
Canfor is a leading integrated forest products company based in Vancouver, British Columbia ("BC") with interests in BC, Alberta, North and South Carolina, Alabama, Georgia, Mississippi and Arkansas, as well as in Sweden with its recent majority acquisition of Vida Group. Canfor produces primarily softwood lumber and also owns a 54.8% interest in Canfor Pulp Products Inc., which is one of the largest global producers of market northern bleached softwood kraft pulp and a leading producer of high performance kraft paper. To learn more, please visit: www.canfor.com.
SOURCE: Canfor Corp.
Go to a related story on PaperAge.com:
» Canfor Agrees to Cash Buyout Offer of $16.00 per Share ($981 Million) from Great Pacific Capital Corp. - Oct. 28, 2019.