Metsä Group Appoints Riikka Joukio as SVP, Climate and Circular Economy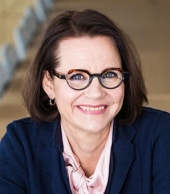 Riikka Joukio
Dec. 9, 2019 - Metsä Group has appointed Riikka Joukio as the Group's SVP, Climate and Circular Economy, effective Dec. 5. She reports to Jari Voutilainen, SVP, Corporate Affairs.
In her new role, Joukio supports Metsä Group's cooperation with key societal stakeholders and acts as the Group's representative in climate change and circular economy related working groups and forums.
Joukio has held various managerial and specialist positions in Metsä Group. She moves to her new role from the position of SVP, Greaseproof papers in Metsä Tissue.
Metsä Group focuses on wood supply and forest services, wood products, pulp, fresh fibre paperboards and tissue and greaseproof papers. In 2018, Metsä Group's sales totaled EUR 5.7 billion, and it employs approximately 9,300 people. To learn more, visit: www.metsagroup.com.
SOURCE: Metsä Group