Rottneros Acquires Swedish Forest Operator Nykvist Skogs AB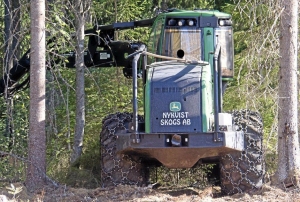 Nykvist Skogs supplies the local pulp and sawmill industry in west central Sweden with raw material and had reported sales of around 90 MSEK during the financial year 2018/19
Nov. 4, 2019 - Rottneros today announced the acquisition of Nykvist Skogs AB, an independent forest operator in Värmland County (west central Sweden). The company's business activities include wood trade, forest management, felling and consultancy.
Terms of the deal were not disclosed.
For Rottneros, the acquisition will increase the long-term availability of forest raw materials offered by private forest owners, while Nykvist Skogs will continue to develop as an autonomous and independent raw material operator.
"The acquisition of Nykvist Skogs means that Rottneros will further strengthen its raw material procurement possibilities. The acquisition increases the Group's access to raw material from private forest owners, which makes up about half of the forest ownership in Sweden," said Lennart Eberleh, President and CEO of Rottneros.
Nykvist Skogs supplies the local pulp and sawmill industry with raw material and had reported sales of around 90 MSEK during the financial year 2018/19, an increase of some 37 percent compared to the previous year. During the same period, operations handled 140,000 cubic meters of wood, of which sawn timber and pulpwood accounted for about half each.
Eberleh continued, "The company has long-standing business relationships with Rottneros and is very well managed with good growth historically. In order to ensure Nykvist Skogs' continued development, the business will continue as an independent subsidiary in the Group."
Nykvist Skogs manages about 5,000 hectares of forest for its clients and has nine employees. The company will be consolidated in Rottneros' accounts as of January 1, 2020. However, it will not have a material impact on the Rottneros' sales and earnings.
"The ambition is to expand the business and grow the timber flow through the organization," Eberleh added.
The sellers of Nykvist Skogs are Pär Skinnargård and Sven Nykvist.
Nykvist Skogs' CEO, Pär Skinnargård, will continue to lead the business and all employees are intended to remain in the company.
Rottneros AB is an independent producer of market pulp and fiber-based food packaging. The Group operates two pulp mills: Rottneros Mill and Vallvik Mill, along with Rottneros Packaging and a wood supply company in Latvia. To learn more, please visit: www.rottneros.com
SOURCE: Rottneros AB