Duluth City Council in Minnesota Excludes Paper from Bag-Fee Ordinance
By Peter Passi, Duluth News Tribune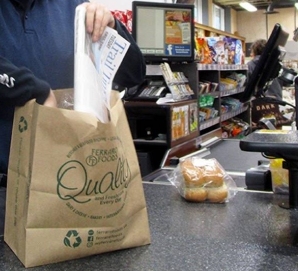 A proposed ordinance that would require retailers in Duluth (Minnesota) to charge customers a nickel for every single-use bag they dispense has been ammended to exclude paper bags.
Nov. 1, 2019 (Duluth News Tribune) - The Duluth City Council voted 7-1 Monday night, with 5th District Councilor Jay Fosle absent, to amend the ordinance originally proposed by 3rd District Councilor Em Westerlund.
Westerlund cast the sole vote against the amendment, saying: "As the lead sponsor of this ordinance, it was an intentional decision to bring forward and include paper and plastic as single-use bags because of the differing climate impacts that they have."
While Westerlund said she understood the good intentions of the proposed amendment, she explained: "I am concerned enough about the impact on the climate that the paper-making process has and the importance of trying to reduce all of our reliance on single-use products that it seems like a good solution to address all single-use bags that are prominently used at one time."
In an apparent reference to a Duluth paper mill operated by Verso Corp., At Large Councilor Zack Filipovich said: "I think it's part of our job as councilors to consider what some of the impacts might be in a holistic manner, looking at how this and other actions that we take are going to affect the community as a whole."
"Being that paper products are a renewable resource and being that paper facilities do help when we treat our wastewater in our community — it actually makes it cheaper for everyone, and makes it easier to treat that wastewater — I think this is a fair amendment," Filipovich said.
But Heather Strassen, a concerned citizen, asked the council not to water down the original ordinance, noting that from an emissions standpoint and the impact of the energy-intensive paper-making industry on global warming, it could be argued that paper bags were just as bad as, if not worse than, plastic bags.
Strassen urged the council not to exclude paper bags from the proposed ordinance and warned that doing so would risk "defeating the point of encouraging the reduce-and-reuse culture which this ordinance seeks to encourage."
Council President Noah Hobbs, who proposed the paper exclusion, was not persuaded and said: "While there is a local employer manufacturing these bags, that's not the entire reason that I brought this forward. I think the public perception by and large is that this is a plastic-bag fee and not a paper-bag fee."
Hobbs noted that while campaigning door-to-door in recent weeks, most people thought the proposed ordinance pertained only to plastic bags.
The complete story can be found on the Duluth News Tribune's website: Duluth City Council excludes paper from bag-fee ordinance.
SOURCE: Duluth News Tribune