Zanders Welcomes Six New Apprentices at Gohrsmühle Paper Mill in Germany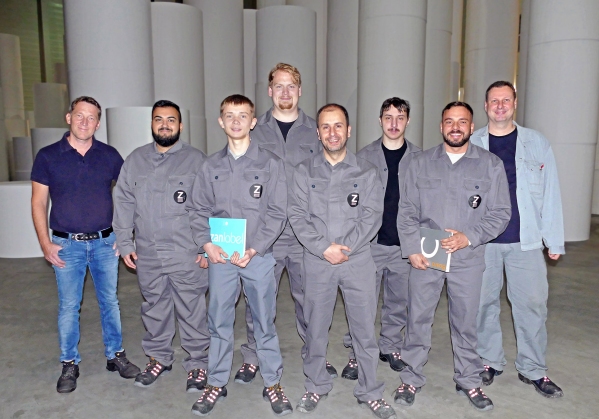 The new Zanders apprentices as paper technologists (PT), mechatronics technicians (ME) and machine and plant operators (MP). From left to right: Mike Richter (day foreman paper production, instructor PT and MP), Onur Yilmaz (PT), Olegs Snikers (ME), Daniel Nadrop (ME), Nazem Hassan (MP), Norbert Mueller (PT), Patrick Pascoa (MP) and Thomas Cuerten (master electrician maintenance, instructor ME).
Oct. 24, 2019 - German specialty paper producer Zanders announced that it has welcomed six new apprentices at the beginning of this training year. The apprentices will work at Zanders' Gohrsmühle paper mill and learn the professions of paper technologist, mechatronics engineer and machine and plant operator.
"As in previous years, we were able to successfully fill all offered apprenticeships," said Thomas Döring, Head of Human Resources at Zanders.
Zanders noted that this is the second time this year that the paper mill has offered training as a machine and plant operator, and the company says the apprenticeships have proven successful.
"With the new training, we were able to arouse the interest of young people, for whom a job at a paper producer was previously out of the question," Döring explained. "In addition to the industry-specific paper technologist, with the mechatronics engineer and the machine and plant operator, we now offer two further trainings that open up new perspectives for young people."
The Gohrsmühle mill is located in Bergisch Gladbach, Germany, and has the capacity to produce about 325,000 tons per year of specialty paper and board grades on two paper machines — PM 2 and PM 3.
Zanders Paper is a German manufacturer of high-quality specialty papers and cartons for labels, packaging and graphic applications. To learn more, please visit: www.zanders.com.
SOURCE: Zanders Paper GmbH
Editor's Note: Mechatronic Engineering combines the fundamentals of Mechanical, Electrical and Computer Science to develop autonomous systems.