PTT Forecast Expects Paper Production in Finland to Decline Due to Slow World Economy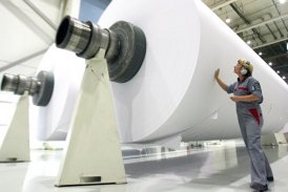 The decrease in demand for paper products will clearly be reflected in next year's paper production figures in Finland.
Oct. 8, 2019 - Pellervo Economic Research Centre's (PTT) forecast for Finland's forest products sector says demand for forest industry products has been weakened this year by the slowing of the world economy. The decrease in demand for paper products will clearly be reflected in next year's paper production figures in Finland. The falling price of pulp will hit bottom this year. Storm and insect damage to forests in Europe have led to an oversupply of sawn goods.
Paper demand will continue to fall, Finnish paper exports will once again decline
The decrease in paper demand escalated early this year because of increasing economic uncertainty. As a result, the rise in prices that had continued for a couple of years turned into a decline in Europe last summer. Finnish export prices will also decline towards the end of this year. The decrease in demand has spawned plans to close down paper mills next year, including in Finland.
The shuttering of the UPM paper mill in Rauma and two Stora Enso mills in Oulu will cut down the volume of paper production in Finland by 10 percent, thereby reducing the total value of forest industry exports. The slowdown of growth in private consumption in Europe is seen in the export volume and price of paperboard this year. The overall export prospects of paperboard nevertheless continue to be positive in the long term.
Falling pulp prices will hit bottom this year
The price of softwood pulp peaked in Europe in November 2018 at nearly 1,100 euros per metric ton and by the end of September dropped by 30 percent. Contributing factors to the drop include the rapid decline in Chinese demand, which took the market by surprise, and the increase in capacity that has exceeded the growth of demand in recent years.
Pulp exports to China have revived after the freeze in early 2019, and the decline in the price of softwood pulp has levelled out. Stocks held by producers nevertheless remain at a high level.
As Finnish export prices react to international price development with a delay, the export price of Finnish pulp will continue to drop in the last quarter. The pulp market is expected to normalise in 2020.
"This means that the export price of pulp will increase next year, and we can expect a modest increase in export volume as well. This scenario is nevertheless only possible if there is no significant deterioration in economic development in China," says Forest Economist Emmi Haltia.
Significant drop expected in the price of sawn goods
The volume of Finnish sawn goods exports for 2019 will be up slightly, thanks to a good start at the beginning of the year and also because sawmills have sold off large quantities to relieve their ample stocks. However, because of the oversupply in Central Europe and North Africa, Finnish sawmills have begun to cut down on their production volumes in the latter half of this year.
"Sawn goods production volumes are expected to drop two percent this year, owing to output restrictions and reduction of stocks. The drop is expected to be greater next year," says Forest Economist Matti Valonen.
Pellervo Economic Research (PTT) is an independent applied economics research institute and a registered non-profit organization. To learn more, www.ptt.fi
SOURCE: PTT (Pellervo Economic Research)