Klippans Bruk Starts Up New Tissue Machine in Sweden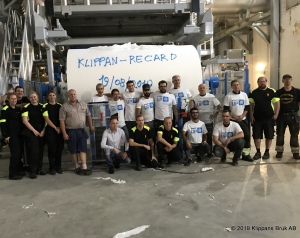 Klippans Bruk's new tissue machine, PM 11, produced its first parent roll of tissue on Aug. 19.
August 27, 2019 - Klippans Bruk announced that it has started-up its new tissue machine, PM 11, at the company's mill in Klippans, Sweden. The new machine produced its first parent roll on Aug. 19.
PM 11, which was supplied by Recard, has the capacity to produce 30,000 metric tons per year of tissue paper. The machine has an operating speed of 1700 mpm and is capable of producing grammages between 14 and 26 gsm.
In a written statement Klippans said, "We are now concentrating to achieve correct specifications and reach the Klippan Tissue quality. The trimming period with start-up orders will last a couple of weeks."
Editor's note: On February 1, 2018, Svenska Pappersbruket AB changed its name to Klippans Bruk AB.
Klippans Bruk is a leading producer of deep-colored tissue base paper reels, which are purchased by tissue converters primarily for the production of napkins. To learn more, please visit: www.kpn-bruk.se.
SOURCE: Klippans Bruk AB