Shifting Trends Defining the Future of Specialty Papers Industry
August 22, 2019 (Smithers Pira) - The global market will reach 25.03 million tonnes in 2019 according to the latest exclusive research from Smithers Pira. This compares to an estimated total production of paper and paperboard estimated at more than 450 million tonnes, but specialty grade present an increasingly lucrative market opportunity for both established specialty providers, and bulk manufacturers looking to diversify.
The Smithers study — The Future of Specialty Papers to 2024 — tracks how multiple market trends for over 40 specialty paper grades will cooperate to push this market value to 28.02 million tonnes in 2024 — representative of a 2.3% compound annual growth rate (CAGR). As this market expands there will be a series of key changes that will help frame the future profitability of the industry.
The expansion of sales volume will be the strongest in the Asia-Pacific region (a projected 3.8% annual growth), which already consumes the largest tonnage worldwide. China and India are particularly robust. Flexible packaging papers, C1S packaging, printing labels, specialty printing papers and release liners are the largest segments within the global industry.
Smithers analysis identifies the following five key market developments and opportunities that will act to shape the future of the specialty papers industry worldwide: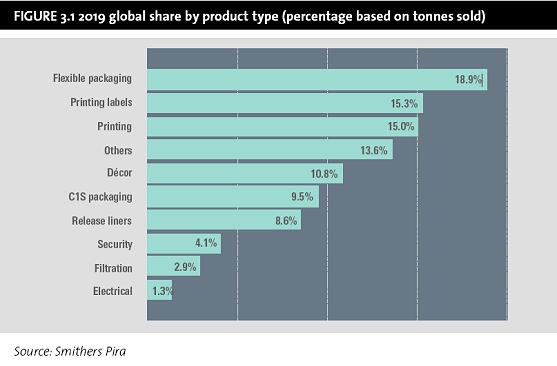 Commodity Producers
More than 550 paper machines — typically smaller in output and size than commodity papers industry machines — across the world are used to make specialty papers.
The commodity printing and writing industry and the newsprint business have been contracting steadily for years in North America and Western Europe.
Commercial forces mean that more commodity companies are exploring how to enter the specialties area. Commodity paper mills or newsprint mills in those regions have been converted — often at great expense — to manufacture specialties. New chemistries and improved process technologies have enabled several wider and faster machines to produce specialties more economically than traditional smaller specialty mills. Not all such conversions have been successful, however and a few such mills have closed.
This has placed new pressure on specialty paper companies especially those active in slower growing segments. Several long-time specialty paper companies have either shut down or have been part of a growing trend of mergers and acquisitions. Other veteran producers such as Appvion and Arjowiggins are facing bankruptcy, administration or receivership. A Scandinavian investor group has recently acquired Zanders Paper in Germany, rescuing the venerable mill from insolvency.
Sustainable Packs
In 2019, flexible packaging remains the largest sector by tonnage sold — around 20% of the 2018 market — and has one of the highest projected growth rates.
Environmental regulations support this expansion, with new opportunities emerging as a result of stricter waste packaging requirements in many regions — led by the EU. The plastic-to-paper conversion will continue to accelerate in some areas — with for example, recent bans on plastic drinking straws in some municipalities within the US.
Machine-glazed (MG) papers are widely used for laminating, coating, metallising and converting into a variety of flexible packaging materials. Growth is steady with large existing volumes. Waxed papers are slowly losing share despite their relative low cost as some traditional applications are now using grades with better barrier properties.
Greaseproof and oil and grease-resistant (OGR) papers continue to grow in popularity, with significant research and development being conducted to find effective water-based alternatives to fluorocarbons as barrier coatings.
Grease-resistant papers are more commoditised and are available from a wider variety of suppliers. Hence, they are typically significantly lower in price than the premium greaseproof grades.
Water-based Coatings
New product development in food contact applications continues to be focused heavily on the commercialisation of water-based barrier coatings to replace expensive and environmentally controversial fluorocarbons. Major chemical companies have been pursuing various patented innovative solutions, several of are now being implemented on a commercial basis.
There is considerable ongoing R&D expenditure and patent activity, both at chemical suppliers and papermakers, to advance this further, including the use of custom-engineered nanoparticles in size press treatments and surface coatings to impart eco-friendly oil- and grease-resistant characteristics.
Another priority topic is replacing trivalent chromium complexes commonly used in North America as heat-resistant treated release surfaces for baking sheets. Food-grade silicone coatings are more common in other global regions, and work well in many applications. They can be expensive however and difficult to apply on the paper machine, with work targeting the development of better mid- to low-price on-machine solutions.
Thermal and Inkjet Papers
The explosive growth of Internet shopping and related shipping of products is fuelling a corresponding growth in demand for thermal transfer, direct thermal and digitally printed shipping labels. Additional government regulations on product safety continue to drive growth of ingredient labels, safety warnings and transportation hazard labels, and health warnings are also supporting further expansion in demand.
For labels plastic filmic facestocks have gained share in some applications because of advantages in flexibility, durability, and moisture resistance — but paper remains quite popular for most applications.
Thermal papers generally are an expanding market, with several investments in capacity commissioned in the mid-2010s feeding this new market demand. Lightweight opaque papers continue to have strength in several developing regions as postal rates increase and bulk mailers look for lighter grammage solutions. A key challenge for the industry remains the implementation of thermal coating formulations that do not require bisphenol A (BPA) in their production, as the chemical has attracted negative publicity and tighter regulations in North America and Europe.
Demand for inkjet printing is not confined to labels but is expanding into multiple other segments. In response as high-speed inkjet printers have proliferated around the world, specialty papermakers have responded with new lines of surface-treated or fully coated papers that function well in combination with the digital print platform.
Medical Applications
In addition to an increased demand for release liners for bandages and other products, the medical industry will continue to see a rise in the need for sterilisable packaging, including paper. Growth rates for specialty paper grades in this segment are forecast at around 4.5% for 2019- 2024.
Papermakers continue to invest in production of various grades, including lightweight MG or MF bleached kraft paper to capilatise on this opportunity, but do face competition from plastic films as a lower cost alternative.
Key attributes for medical packaging papers include protecting surgical instruments or other contents by maintaining a sterile environment. This requires improved resistance to tears or punctures and maintaining these after treatment with several sterilisation techniques to impart a necessary shelf life of often up to five years.
These trends are examined in depth and quantified in an exclusive market dataset in The Future of Specialty Papers to 2024. This authoritative business strategy document tracks future demand for over 40 grades of specialty paper worldwide and by region and is available from Smithers Pira.
Smithers Pira is a worldwide authority on packaging, paper and print industry supply chains. For more information please visit: www.smitherspira.com.
SOURCE: Smithers Pira