Voith Supplies Papierfabrik Palm with Complete Stock Preparation Line for New Production Line Project in Aalen, Germany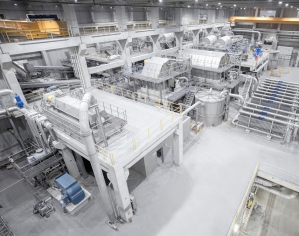 August 12, 2019 - Voith announced that it is supplying a BlueLine stock preparation unit for Papierfabrik Palm's new containerboard production line at the Aalen-Neukochen paper mill in Aalen, southwest Germany.
As well as the entire stock preparation unit from feed-in of the recovered paper to the finished stock, the scope of supply also includes the complete design of the line and its measuring, control and instrumentation systems.
Voith noted that it has already provided Papierfabrik Palm with support during the conceptual and approval phase for the new build project.
The stock preparation unit will produce 2,200 metric tons of stock per day. A precondition for the high quality of the product is an extremely clean furnish. At the same time, the company laid particular emphasis on achieving a sustainable, environmentally compatible paper production process.
Voith BlueLine EcoProcess
The design of the stock preparation line is based on the EcoProcess developed by Voith. The comprehensively tried and tested solution allows for an energy-optimized machine configuration. EcoProcess combines a strict counterflow principle with smart water cycle separation. In conjunction with water management across all systems, this results in a controlled discharge of dissolved and colloidal impurities with low water consumption. A cutting-edge, flexible long fiber screening concept, minimal solids content in the inlet to the waste water treatment facility and a special additional preparation line for largely clean recovered paper will result in high fiber yield and minimal waste volume.
Voith Paper is part of the Voith Group and a leading full-line supplier as well as pioneer in the paper industry. Through constant innovations Voith is optimizing the paper manufacturing process and facilitating resource-conserving production. To learn more, please visit www.voithpaper.com.
SOURCE: Voith GmbH