Cascades Announces Record Sales and Adjusted OIBD for the Second Quarter of 2019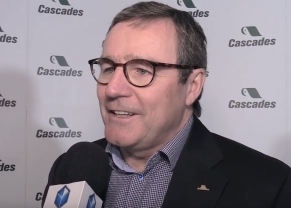 "Cascades delivered record quarterly sales and adjusted OIBD that were in line with expectations in the second quarter. All our segments executed well." – Mario Plourde, President and CEO of Cascades
Aug. 9, 2019 - Cascades Inc. (TSX: CAS) reports its unaudited financial results for the three-month period ended June 30, 2019.
Mr. Mario Plourde, President and Chief Executive Officer, commented: "Cascades delivered record quarterly sales and adjusted OIBD that were in line with expectations in the second quarter. All our segments executed well. Tissue results were supported by favourable input costs and selling prices and better operational performance, notably at the St. Helens mill in Oregon, Containerboard Packaging performance reflected lower OCC prices and good operational flexibility within a context of softer demand and pricing pressure, while European Boxboard and Specialty Products results benefited from recent business acquisitions.
"On the strategic front, we announced the acquisition of substantially all of the Orchids Paper Products assets in early July. This move provides compelling optimization opportunities for our Tissue platform while reinforcing the operational foundation of this segment's U.S. consumer product business. Furthermore, the addition of these assets accelerates our ongoing Tissue modernization plan, is aligned with our efforts to enhance the quality of the products we manufacture, and reinforces our initiatives to support the growth of our customers and the segment.
"On the Containerboard side, analysis of the Bear Island conversion project in Virginia is advancing, with added time being taken to determine the optimal structure to successfully execute the project and to minimize risk. We expect to provide additional information by the end of the year.
"Finally, we are pleased to announce that we are increasing our quarterly dividend from $0.04 to $0.08 per share. This step reflects our strong asset base and financial fundamentals. We continue to prioritize capital investments and debt reduction in our capital allocation, and believe that this dividend increase, amounting to approximately $15 million annually, will not impact our financial flexibility to continue to focus on these priorities for creation of shareholder value. At the same time, we will provide our shareholders with a higher cash return on their investment that is better aligned with the industry."
Analysis of results for the three-month period ended June 30, 2019 (compared to the same period last year)
Sales of $1,275 million increased by $95 million, or 8%, compared to the same period last year, attaining a record level for the second quarter. Specifically, Tissue sales increased by $34 million or 10%, reflecting a higher average selling price, a more favourable sales mix and exchange rate, partially offset by slightly lower volume following the previously announced closure of 2 paper machines in Ontario. European Boxboard sales increased by $38 million, or 16%, compared to the prior year. This was largely driven by the business acquisition in Spain at the end of 2018, which served to more than offset less favourable selling price and mix and Canadian dollar - euro exchange rate. The Specialty Products segment generated an 18% or $29 million sales improvement year-over-year, reflecting 2018 acquisitions and improved pricing, sales mix and volumes on the packaging side. Combined, these benefits more than offset lower results from the Recovery & Recycling sub-segment due to price erosion of recycled material.
Finally, sales in the Containerboard Packaging group decreased by $13 million or 3% year-over-year. This was entirely driven by lower volume, which more than mitigated the benefits of a more favourable exchange rate and sales mix, while average selling prices were stable year-over-year.
The Corporation generated an operating income before depreciation and amortization (OIBD) of $154 million in the second quarter of 2019. This compares to the $131 million generated in the same period last year. This reflects higher average selling prices, a more favourable sales mix and lower raw material prices in the Tissue and Containerboard segments. In the case of both segments, these benefits were partially offset by lower volumes during the period. Tissue results also benefited from ongoing efforts to realign the financial performance by reducing costs and improving execution. This segment also recorded $4 million of prior year U.S. tax credits during the second quarter.
Business acquisitions completed in the last twelve months contributed to the year-over-year improvements generated by Specialty Products and European Boxboard. Results in the Specialty Products segment also benefited from volume and selling price improvements in packaging sub-segments compared to the prior year, the benefits of which offset lower Recovery results attributable to raw material pricing erosion. 2019 operating results also include the beneficial impact of IFRS 16 accounting for leases, which increased second quarter 2019 OIBD by approximately $7 million.
On an adjusted basis1, second quarter 2019 OIBD stood at $156 million, versus $134 million in the prior year.
The main specific items, before income taxes, that impacted our second quarter 2019 OIBD and/or net earnings were:
$4 million charge in Corporate Activities related to an environmental provision (OIBD and net earnings)
$5 million gain in Corporate Activities related to an insurance settlement from a prior year event (OIBD and net earnings)
$4 million charge in Corporate Activities associated with transaction fees paid for the Orchids' assets acquisition (OIBD and net earnings)
$6 million unrealized gain on the fair value revaluation of an option granted in the Bear Island project (net earnings)
For the 3-month period ended June 30, 2019, the Corporation posted net earnings of $31 million, or $0.33 per share, compared to net earnings of $27 million, or $0.28 per share, in the same period of 2018. On an adjusted basis1, the Corporation generated net earnings of $26 million in the second quarter of 2019, or $0.28 per share, compared to net earnings of $29 million, or $0.30 per share, in the same period of 2018.
Near-Term and Strategic Outlook
Discussing the outlook for Cascades, Mr. Plourde commented: "Near-term results in the Containerboard business segment are expected to improve both sequentially and year-over-year, following usual seasonal trends and current market dynamics, while Tissue performance is expected to continue its positive trend in the third quarter.
"European Boxboard performance is expected to benefit from its recent acquisition on a year-over-year basis, while sequential performance is expected to moderate as a result of lower seasonal demand following holiday-related closures in the third quarter, and lower pricing.
"We anticipate stable near-term results in the Specialty Products segment both year-over-year and sequentially, as the impact of ongoing lower recycled fibre pricing on the recovery operations is expected to be offset by stable pricing and volumes in packaging.
"On a consolidated basis, third quarter performance is expected to improve year-over-year and be moderately higher on a sequential basis."
Founded in 1964, Cascades produces, converts and markets packaging and tissue products that are composed mainly of recycled fibres. To learn more, please visit: www.cascades.com.
SOURCE: Cascades, Inc.