Resolute Forest Products Wins Sustainability Initiative of the Year for Climate Mitigation Efforts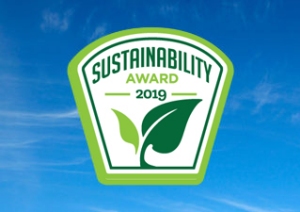 Aug. 2, 2019 - Resolute's success in reducing its carbon emissions and ongoing efforts to mitigate climate change have earned the company a 2019 Sustainability Award for best Sustainability Initiative of the Year (project) from the Business Intelligence Group. The organization's Sustainability Awards annually honor people, teams and organizations who have made sustainability an integral part of their business practice or overall mission.
This marks the third consecutive year Resolute has been recognized by the Sustainability Awards for its sustainability leadership, vision and strategic initiatives. In 2018, the company was awarded a Sustainability Leadership Award in the Organization category, and in 2017, Resolute's vice-president of Corporate Communications, Sustainability and Government Affairs, Seth Kursman, was named a Sustainability Hero.
"Our business strategy is focused on continuing to transform the company into a more profitable and sustainable organization," noted Kursman. "We are honored to be recognized by the Business Intelligence Group for our efforts to reduce greenhouse gas emissions."
The award selection process considered the concrete actions Resolute undertook in 2018 to mitigate climate change including greenhouse gas reduction investments at the company's Saint-Félicien (Quebec) pulp mill and Thunder Bay (Ontario) pulp and paper mill, as well as the deployment of patented technology developed by CO2 Solutions Inc. to capture carbon from the Saint-Félicien mill for the adjacent Toundra Greenhouse.
"We are proud to reward and recognize Resolute for its sustainability efforts," said Maria Jimenez, Chief Nominations Officer, Business Intelligence Group. "It was clear to our judges that their vision and strategy will continue to deliver results toward a cleaner, more sustainable world."
Resolute has won 14 regional, North American and international awards and distinctions in 2019 for its leadership in corporate social responsibility and sustainable development, as well as for our business practices.
Resolute Forest Products is a global leader in the forest products industry with a diverse range of products, including market pulp, tissue, wood products, newsprint and specialty papers, which are marketed in close to 70 countries. The company owns or operates some 40 manufacturing facilities, as well as power generation assets, in the United States and Canada. To learn more, please visit: www.resolutefp.com
SOURCE: Resolute Forest Products Inc.