BillerudKorsnäs Starts-up New Voith-Supplied Board Machine, KM 7, at Gruvön Mill in Sweden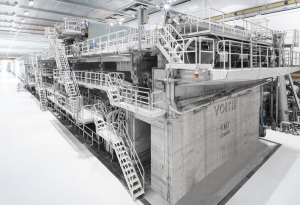 KM 7, a Voith XcellLine board machine, was commissioned on June 28 at BillerudKorsnäs' pulp and paper mill in Gruvön, Sweden. The machine has the capacity to produce 550,000 tonnes per year of liquid packaging board, cartonboard, food service board and liner.
Aug. 1, 2019 - Voith announced that BillerudKorsnäs on June 28 commissioned its new board machine, KM 7 in Gruvön, Sweden. The Voith XcelLine board machine has a design speed of 1,200 m/min, web width of 8,800 mm, and the capacity to produce 550,000 tonnes per year of liquid packaging board, cartonboard, food service board and liner.
According to Voith, start-up took just seven days from stock on wire to paper on reel.
"Not only is the start-up of the new KM 7 in Gruvön running to schedule; the collaboration with the Voith team has also been first-rate," said Maria Engnes, Program Director NEXT Generation of BillerudKorsnäs. "As a result, we were able to meet all major milestones and have been producing high-quality liners for our customers on the KM 7 since the end of June.
"We will continue to focus on the successful start-up of the KM 7, safety, production stability, efficiency improvements and innovation," Engnes added.
Features of KM 7's former section include a three-ply wire section with a DuoFormer D II hybrid former, two state-of-the-art DuoShake shaking units and a fiber orientation control system. The scope of supply also includes various MasterJet Pro F systems with additional IntraDamp modules for the headbox. In the press section, a Tandem NipcoFlex shoe press with SolarPress roll covers ensures optimum dewatering.
In the dryer section, EvoDry steel cylinders are being used in a board machine for the first time. The special cylinders allow highly efficient and safe paper drying thanks to higher heat transfer and greater working width.
In the finishing section, the KM 7 is the first board machine worldwide to be fitted with Curl Control. For maximum flexibility and optimum product quality, the machine also has four different coating units: two SpeedSizer AT systems, one JetFlow F and one DynaCoat AT. Both the SpeedSizer AT units and the DynaCoat AT have carbon fiber supporting structures to ensure stable CD profiles with consistent coating performance.
Complete details about KM 7 are available on Voith's website.
Voith Paper is part of the Voith Group and a leading full-line supplier as well as pioneer in the paper industry. Through constant innovations Voith is optimizing the paper manufacturing process and facilitating resource-conserving production. To learn more, please visit www.voithpaper.com.
SOURCE: Voith GmbH