Södra Appoints Magnus Björkman as President of Södra Cell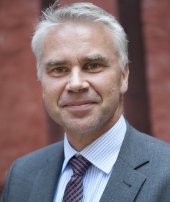 Magnus Björkman
July 23, 2019 - Södra announced that Magnus Björkman has been appointed President of Södra Cell — Södra's pulp producing division. He will assume his new role on August 1.
Björkman has been Acting President of the division since March 1 of this year and will remain a member of Group Senior Management. He will report to Södra's President and CEO, Lars Idermark.
"Magnus is a leader with high ambition, drive and a market focus, and in his previous roles at Södra, has made a major contribution to Södra Cell's favourable results. I am convinced that Magnus will continue to contribute to our Group strategy for sustainable and profitable growth together with our customers," said Idermark.
Björkman has a Master of Science in Engineering and holds an MBA from the Stockholm School of Economics. He began working at Södra in 2006 and has held several senior positions in the company over the years, including head of the pulp mill at Mörrum and, since 2012, Director of Sales and Marketing at Södra Cell. He has many years of industry experience from senior positions with other companies, including Stora Enso and Tetra Pak.
Björkman commented, "I am delighted to be entrusted with the continued development of Södra Cell. Our success is measured by our customers' success. We have a favourable market position and together with our dedicated employees, I am looking forward to further strengthening our position."
About Södra Cell
With its three pulp mills in Sweden at Värö, Mörrum and Mönsterås, Södra Cell is one of Europe's leading manufacturers of pulp for the pulp market.
Södra is Sweden's largest forest-owner association, with 52,000 forest owners as its members. Södra is also an international forest industry Group, with operations based on processing its members' forest products, such as softwood and hardwood pulp, and wood products. To learn more, please visit: www.sodra.com.
SOURCE: Södra