Mondi Syktyvkar and Steti Paper Mills Celebrate Milestones in 2019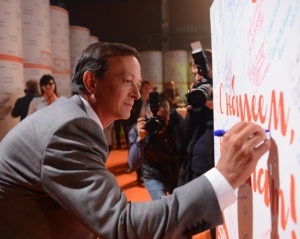 Mondi Syktyvkar MD Klaus Peller, along with other guests, signed a giant paper ream which will be kepy in the mill's museum.
July 11, 2019 - Mondi announced that two of its paper mills are celebrating longevity milestones this year. Mondi Syktyvkar in Russia celebrates 50 years of papermaking, while Mondi Steti in the Czech Republic celebrates 70 years of papermaking.
According to Mondi, both paper mills have enjoyed significant investment over the past decade with a combined spend of over EUR 1.4 billion on completed and ongoing expansion and modernization projects.
Mondi Syktyvkar
Mondi Syktyvkar in the Komi Republic is a fully integrated pulp and paper mill operating three uncoated fine paper machines, one containerboard machine and a pulp dryer, as well as a wood yard, a pulp mill, a power plant and a waste water treatment plant.
In addition, Mondi Syktyvkar provides essential services to the surrounding community. The mill's onsite power plant delivers around 20% of the regional electricity demand and its wastewater treatment plant processes over 80 million cubic meters of water annually, including 100% of municipal wastewater.
"The people of Syktyvkar highly appreciate Mondi's contribution to the development of the region. We are proud to have such a responsible partner and strong employer in Komi," said first deputy chairman of the government of the Komi Republic, Mikhail Poryadin.
Mondi Steti
Mondi Steti is the largest paper mill in the Czech Republic, employing about 850 people. Since joining the Mondi Group in 2000, the mill has undergone significant investments and improvements, increasing production by 50%, enhancing the product mix, and reducing its environmental footprint including now being 100% electricity self-sufficient. The recent EUR 335 million modernization project, commissioned at the end of 2018, positioned Steti as one of the leading specialty and sack kraft paper mills in the world.
Tomas Rysanek, the Mayor of Steti, commented, "Mondi is celebrating 70 years of papermaking tradition and is a proud patron of our region. Mondi's support of the community and the volunteer work done by its employees help to make Steti a great place to live."
Peter Oswald, Mondi Group CEO commented, "I'm very proud of our successful Mondi Syktyvkar and Mondi Steti mills. Their world-class operational performance, commitment to minimising environmental impact, and their excellent teams continue to play an important role in Mondi's growth story.
"The sustainability trend of paper replacing plastic continues to gather momentum and both mills are well positioned to benefit from the interesting value accretive growth options this will create for many years to come. I am looking forward to celebrating many more key milestones together," he concluded.
Mondi is a global leader in packaging and paper, offering innovative and sustainable packaging and paper solutions. Mondi is fully integrated across the packaging and paper value chain. To learn more please visit: www.mondigroup.com.
SOURCE: Mondi