New Company Announces Plans for Recycled Paper Mill in Utah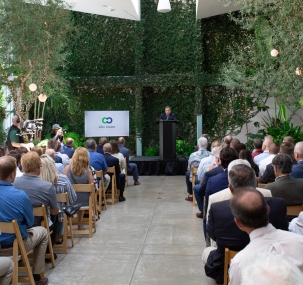 John Sasine, CEO of Crossroads Paper, announces plans to build a recycled paper mill in Salt Lake Valley during a ceremony at Red Butte Garden in Salt Lake City, Utah.
July 11, 2019 - A company by the name of Crossroads Paper has announced plans to build a recycled paper mill in Utah. The announcement was made by company executives during an event at Red Butte Garden in Salt Lake City on Wednesday, July 10, 2019.
According to information on Crossroads Paper's website, the proposed mill is expected to produce approximately 1,000 tons of packaging paper per day and will be constructed on a site of approximately 80 acres. Site selection efforts have identified two excellent options in the Salt Lake Valley, and the final location will be announced upon completion of land acquisition.
The total cost of the project is anticipated to be $320 million, including infrastructure improvements, civil construction and water treatment facilities. The project will be financed by private investment capital, Crossroads said.
Crossroads plans to use OCC (old corrugated containers) and mixed paper sourced from regional communities as the mill's primary fiber furnish.
Crossroads CEO, John Sasine, who is also owner of Rocky Mountain Recycling, a paper collection and brokerage company in Salt Lake City, said the mill will create hundreds of new high-paying jobs, while reducing the strain on local landfills.
"For the past several years, our recycling ecosystem has undergone a series of challenges. We are here to share with you a different and hopeful view," Sasine said.
Crossroads also said Valmet will be the supplier of the mill's paper machine, but no specific details about the machine or scope Valmet's supply were disclosed.
Construction will begin in the coming months, and start-up of the operation is anticipated in early 2022.
SOURCE: Crossroads Paper, and regional news stories