Northern Pulp Expects to Have Report Ordered by Province Ready by September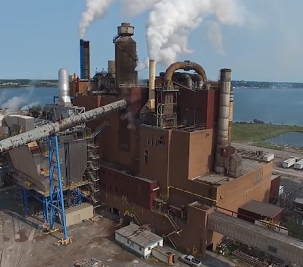 Northern Pulp, a Paper Excellence company, is located in Abercrombie Point, Pictou County, Nova Scotia and has operated since 1967. The mill manufactures 280,000 tonnes per year of northern bleached softwood kraft (NBSK) pulp. The mill operates approximately 353 days per year and directly employs over 300 people.
Company needs Boat Harbour Act amended for it to build new treatment site.
By Michael Gorman, reporter, CBC News
July 9, 2019 (CBC News) - Officials with the company that owns the Northern Pulp mill in Pictou County have told their employees they expect to complete the requirements of a focus report ordered by the province by September.
That would create a scenario that could see the government revisit the date to close Boat Harbour, the treatment site for the mill's effluent.
Company officials, including Paper Excellence Canada CEO Brian Baarda, met with union leadership [on July 3] in Halifax and with mill employees in Pictou County on [July 4].
Don MacKenzie, president of Unifor Local 440, which represents the 240 unionized workers at the mill, said the message was the focus report work is expected to be completed soon.
"The projection looks like September," he said.
The company was ordered to complete the focus report when then-environment minister Margaret Miller ruled in March that its application for a new treatment facility, which would include a pipeline running from the mill at Abercombie Point to the Northumberland Strait, lacked sufficient information.
The company had a year to complete the work. Once the report is submitted there is a 30-day public consultation period and then Environment Department staff have 25 days to make a recommendation to the minister.
If the timeline shared with workers holds true, and the department ultimately recommends the minister approve the project, it means the company could have its permit in November or December.
All of this work has been necessary because McNeil's government passed the Boat Harbour Act in 2015, which said the former tidal estuary that has been used as an effluent treatment lagoon for decades is to be closed on Jan. 31, 2020, at which point cleanup of the site could begin.
Looking at all possibilities
As time ticked toward that deadline, McNeil repeatedly said the date was firm and he expected the company to meet it — even after it became clear there was no way for that to be achieved.
This week, however, . . .
Read the full story on CBC's website: www.cbc.ca/news/canada/nova-scotia/northern-pulp-mill-paper-excellence-boat-harbour-environment-1.5201319
SOURCE: CBC News