Valmet to Supply New Wood Handling Line to Metsä Group's Joutseno Pulp Mill in Finland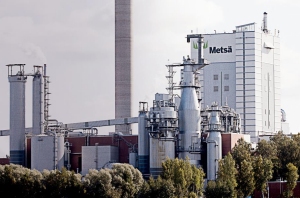 Valmet will supply a new wood handling line to Metsä Group's Joutseno pulp mill in Finland. Photo courtest of Metsä Group.
Feb. 21, 2019 - Valmet said that it has received an order for a new wood handling line from Metsä Group's Joutseno pulp mill. The expansion project will result in the mill being able to process a larger amount wood for its pulping operation.
The value of the order is around EUR 10-15 million, Valmet said.
"Our softwood debarking capacity will increase with a third as a result of the expansion, said Ari Tanninen, Vice President for the Metsä Fibre Joutseno mill. "This increases the effectivity of our operations and ensures the reliability of our debarking long into the future, and also enables the increase of the pulp production capacity in the future."
Paulo Aguiar, Vice President, Wood and Pulp Handling Business Unit for Valmet, added, "Our high capacity wood handling line provides an energy efficient, safe and high yield solution for the Joutseno mill. We are happy to continue our good cooperation, and also have the ability to do performance monitoring through our Industrial Internet applications to further improve the performance of the mill's wood handling."
Valmet's delivery includes a log infeed conveyor with de-icing, hydrostatically supported debarking drum and state-of-the-art horizontal feed chipper. The capacity of the new wood handling line will be 470 m3/hour.
The expansion project is starting this year and will be completed during spring 2020.
About Joutseno Mill
Metsä Fibre Joutseno pulp mill is world's largest single line polysulfide softwood pulp mill, with a production capacity of 690,000 tons per year. Metsä Group's board industry company Metsä Board's chemi-mechanical refiner pulp mill is located at the same site. The chemi-mechanical refiner pulp produced in Joutseno is mainly used for Metsä Board's own folding boxboard production.
Valmet is a leading global developer and supplier of process technologies, automation and services for the pulp, paper and energy industries. To learn more, please visit: www.valmet.com
SOURCE: Valmet