Ahlstrom-Munksjö CEO Says Company Made Good Progress Towards Strategic Goals in 2018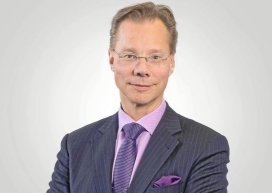 "We made good progress towards our strategic targets in 2018. The acquisitions of Expera and Caieiras were important milestones in the strategic transformation towards global leadership in our selected product categories." – Hans Sohlström, President and CEO, Ahlstrom-Munksjö.
Feb. 14, 2019 - Ahlstrom-Munksjö's President and CEO, Hans Sohlström, made the following comments about the company's fourth quarter and full-year 2018 results:
"We made good progress towards our strategic targets in 2018. The acquisitions of Expera and Caieiras were important milestones in the strategic transformation towards global leadership in our selected product categories and we are very pleased with the acquisitions. Critical size in the value chain enables operations on a global scale and a readiness to better meet our customer needs. The acquisition of Expera tripled our net sales in the U.S. and provided a platform for growth, while Caieiras significantly strengthened our South American operations. Our pro forma net sales reached EUR 3 billion and comparable EBITDA of EUR 330 million.
"The acquisitions also provide us timely cost synergies now that we have achieved most of the benefits related to the merger of Ahlstrom and Munksjö. Hence, our cost competitiveness will improve. In addition, we have identified significant business synergy potential, particularly in the areas of cross selling, technology sharing and production optimization, which will underpin our performance over the next few years."
CHALLENGING QUARTER
"Our financial performance in the fourth quarter of last year was unsatisfactory. Our gross margin for products improved each quarter during the year, however, profitability was impacted by lower delivery volumes. This was due to stronger-than-usual seasonal variations, especially in December, as well as to the planned closure of a paper machine at the Stenay plant in France and operational issues at the Aspa pulp mill. Customers reacted to the increased uncertainty about the economic outlook. The decline in pulp prices in December did not have an impact on the result, due to the usual time-lag. Our cash flow was impacted by transaction and integration related costs, and a lower result."
TARGETED IMPROVEMENT MEASURES PROCEEDING
"To improve competitiveness in the coated one-sided product segment within the Food Packaging business we proceed with the plan to close one paper machine in Stenay, France and to rationalize our product offering. We regret the impact on our personnel but we have to adapt to the changing market environment and align to our strategy of niche orientation for customized solutions.
"In the Decor business we have successfully restored gross margin for products and we are progressing with our comprehensive plan to enhance efficiency and quality leadership. In the Beverage & Casing business, the new production line investment to improve capacity, product capability and efficiency is proceeding."
CONFIDENCE FOR THE FUTURE
"During the year we have completed investments which will improve customer value through product quality and expand our capacity in our Abrasive, Filtration and Food Packaging businesses. We have also decided on several new investments that will improve efficiency and environmental performance as well as expand and improve product quality and capacity. We expect gradual contribution from these investments in the coming years.
"Despite the unsatisfactory finish to the year and the uncertainty regarding the global economic outlook. I have confidence for the years to come. We expect to reap the benefits of our acquisitions and investments, as well as synergy and cost saving initiatives. In 2019 we will focus on integration and delivering on the promised synergies as well as on cash flow. Our gross margin for products has increased and we proceed with measures to further improve our competitiveness as we advance on our growth journey.
OUTLOOK FOR 2019
"Ahlstrom-Munksjö's pro forma comparable EBITDA reached EUR 330 million in 2018. As we entered 2019, customers have reacted to signs of a slowing economic outlook. Although demand growth has slowed somewhat in certain product segments and customers have reduced inventories, market fundamentals remain relatively solid. Ahlstrom-Munksjö will continue its efforts to improve performance and competitiveness. The gross margin for products increased during the course of 2018 and the targeted synergy benefits and cost reduction measures are expected to contribute positively to earnings in 2019."
Ahlstrom-Munksjö is a global leader in fiber-based materials. Products include: filter materials, release liners, food and beverage processing materials, decor papers, abrasive and tape backings, electrotechnical paper, glass fiber materials, medical fiber materials and solutions for diagnostics as well as a range of specialty papers for industrial and consumer end-uses. To learn more, please visit: www.ahlstrom-munksjo.com.
SOURCE: Ahlstrom-Munksjö