GLV Introduces Its New FlexJet Family of Headboxes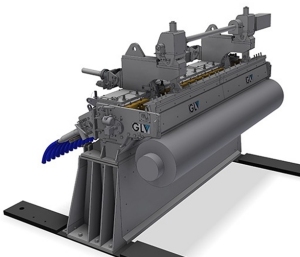 Jan. 28 2019 - GLV announces the launch of its new FlexJet™ line of headbox solutions, including new technology designed to optimize performance across a diverse mix of paper making machinery from linerboard, to packaging, fluff pulp, fine and specialty paper.
The introduction of the FlexJet line expands GLV's headbox capabilities, and provides multiple options with updated technology and tailored solutions built to serve the specific needs of mills with a wide range of applications. Models include the FlexJet F, FlexJet S, FlexJet R and the FlexJet C, specifically designed to apply Microfibrillated Cellulose (MFC) and other additives.
"The engineering behind the development of FlexJetTM technology sought to solve problems for our customers," explains Marc Foulger, Global Business Manager, Headboxes for GLV.
"The innovative nozzle design of each FlexJetTM model offers the widest possible range of MD: CD ratio control, a key metric for optimizing sheet properties for many grades. The nozzle enables the headbox to produce a squarer sheet for grades such as linerboard, and therefore greater cross directional strength on the paper machine."
GLV is a global provider of technology, equipment, parts and maintenance for pulp and paper production. For more information visit GLV.com
SOURCE: GLV