Progroup Commissions New Voith-supplied Containerboard Machine, PM 3, in Germany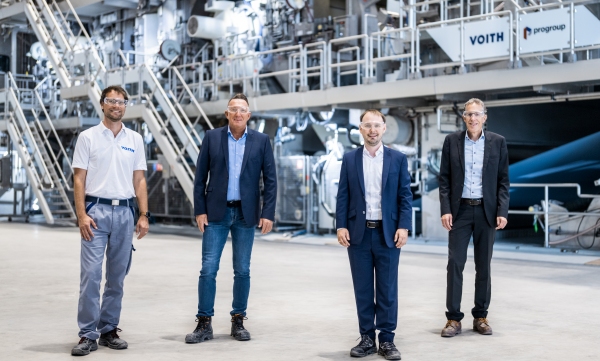 From left to right: René Bauer, Project Manager at Voith Paper; Peter Resvanis, Project Manager at Progroup AG; Maximilian Heindl, Member of the Board and Chief Development Officer at Progroup AG; and Dr. Michael Trefz, President Projects at Voith Paper.
---
Sept. 1, 2020 - German paper manufacturer Progroup AG has successfully commissioned PM 3 at its new paper mill in Sandersdorf-Brehna, Germany. PM 3, which was supplied by Voith, is one of the most modern containerboard machines in the world with the capacity to produce 750,000 tons of testliner and corrugated medium per year.
According to Voith, close consultation between all project participants allowed the companies to complete the installation of PM 3 within the original schedule, despite the restrictions imposed by the coronavirus pandemic.
"The successful startup within the planned schedule represents an important milestone in our growth strategy," said Maximilian Heindl, Member of the Board and Chief Development Officer at Progroup AG.
René Bauer, Project Manager at Voith, added, "By deploying extra personnel and working additional day and night shifts, we were able to accelerate the work in such a way as to enable us to meet the commissioning date."
Voith delivered the entire production line including a BlueLine stock preparation with the new IntensaDrum Duo drum pulper, which can process almost 3,000 tons of recovered paper a day.
The XcelLine paper machine has a wire width of 10,000 mm and an operating speed of 1,600 m/min., while the TwinDrive double unwind increases winder capacity by up to 20 percent and allows automated full reel changes. It is complemented by the high-performance winder VariFlex Performance.
The scope of Voith's supply also included the process air and hall ventilation systems along with a comprehensive startup clothing package for all sections of the paper machine.
Other key innovations include the closed water loop that Voith developed in collaboration with Progroup. In this system, all water used in the paper production process is cleaned in the company's own water treatment facility using anaerobic and aerobic biological treatments and is then returned to the production process in a resource-conserving manner. This allows a wastewater-free paper production process.
Heindl noted, "Thanks to the integrated water treatment plant, we save about 3.75 million liters of fresh water annually. This is equivalent to the water consumption of more than 80,000 people.
"The Eco-Management and Audit Scheme (EMAS) certification of the European Union verifies the sustainability of our facility," he added.
For the new facility, Progroup is additionally investing around EUR 100 million in resource-saving technologies and environmental protection.
Voith Paper, part of the Voith Group, is the full-line supplier to the paper industry, providing a wide range of technologies, services, components and products, and offers paper manufacturers solutions from a single source. For further information, visit: www.voith.com.
SOURCE: Voith Group