New Study Shows Most Frozen Food Cartons are Recyclable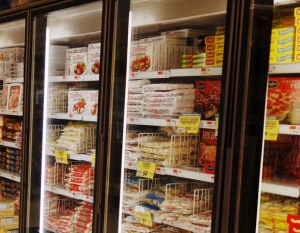 According to a member survey by the Paperboard Packaging Council, about 90% of folding cartons, by the ton, sent to the frozen foods sector last year were made of recyclable grades of paperboard.
From the Paper and Packaging Board's Pulp Magic Blog.
Aug. 21, 2020 - Our colleagues at the Paperboard Packaging Council (PPC) are out with a new study that helps correct a bit of a myth about frozen food packaging.
It's More Recyclable Than You Think!
Like so many other center-of-store foods that were slowly losing favor, frozen food was undergoing a dramatic reappraisal during the supply chain disruptions and shortages that came out of COVID-19.
According to research from the American Frozen Food Institute and the Food Marketing Institute, the $56.7 billion retail frozen food industry was growing, with dollar consumption up 2.6 percent in 2018. The current uncertainty is only cementing consumers' evolving perception of frozen food as "the original meal kit", as one source puts it. But there are also a large number of consumers that conclude frozen food packaging has special coatings to protect against moisture and frost, it is therefore not recyclable.
Okay, so what data does the Paperboard Packaging Council have to help dispel this perception?
When PPC surveyed its members, who together represent about 80 percent of the North American market by volume, and asked about all the frozen food cartons — for things like ice cream bars, bacon, and microwaveable meals — they shipped in 2019, they found that:
"[A]round 90% of folding cartons, by the ton, sent to the frozen foods sector last year were made of recyclable grades of paperboard. 70% were manufactured from standard, uncoated grades while another 20% were converted using wet-strength board — both of which are easily recyclable and do not have treatments that would hinder recycling in the normal waste stream."
What accounts for the mismatch between perception and reality? Part of the answer is in the distinction between primary and secondary packaging.
Manufacturers of all kinds of consumer goods make a distinction between primary and secondary packaging. To put it simply, primary packaging is the last layer between you and your product. It's the paper carton for your milk, or the can for your soft drink. By contrast, secondary packaging keeps units of primary packages together. So, it encompasses everything from the paperboard that bundles the soft drink cans into cases, to the cling wrap that keeps dozens or hundreds of cases of together on a pallet.
When it comes to food packaging, certain kinds of primary packaging for some products are made with coatings that may not be recyclable in all jurisdictions (though you should definitely check with your local recycling authorities to make sure, as the technology is improving every day!).
The PPC research makes clear that when you look at the full range of paper-based packaging used in frozen foods — namely, the secondary packaging — it's a recycling success story, where the overwhelming majority of material can be recovered and turned into other useful products, helping to build the circular economy and combat climate change.
The Paper and Packaging Board promotes the use of paper products and paper-based packaging by highlighting the value they bring to our daily lives. More than 40 U.S. manufacturers and importers collectively fund the national marketing campaign, Paper & Packaging – How Life Unfolds® www.howlifeunfolds.com.
SOURCE: Paper and Packaging Board