Monadnock Paper Mills Enters New Distribution Partnership with Clampitt Paper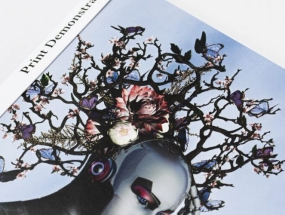 Clampitt Paper is offering Monadnock's new coated Astrolite PC 100 Velvet and uncoated Astrolite PC 100 Smooth.
July 16, 2020 - Monadnock Paper Mills on July 14 announced that it has entered into a new distribution partnership with Clampitt Paper Company, a leading privately-held paper merchant servicing customers across the Southwest United States.
"Our shared values, customer-centric focus, and commitment to sustainable practices and products make this a perfect partnership," said Lisa Taylor, Vice President of Sales and Marketing at Monadnock Paper Mills. "We couldn't be more pleased to collaborate with Clampitt so they can provide even greater sustainable paper choices to current and prospective clients."
Clampitt Paper has 21 locations across the U.S. Its Creative Center and Sample Room are located at the company's Dallas headquarters as well as its Houston office.
"This new partnership brings together two long-time, family-owned companies with a shared commitment to the future success of our clients and customers," said Don Clampitt, Clampitt Paper. "That future lies in offering paper options that don't require a compromise between luxury, performance, and sustainability - and we're excited to expand our reach with these new product lines."
Clampitt Paper is offering Monadnock's new coated Astrolite PC 100 Velvet and uncoated Astrolite PC 100 Smooth. Crafted from 100% post-consumer waste (PCW) recycled materials, Astrolite PC 100 lines are FSC Certified (FSC C018866), manufactured carbon-neutral (VERs) and made with 100% renewable Green-e certified wind-powered electricity (RECs) under a third-party certified ISO 14001 Environmental Management System.
Monadnock PC 100 Velvet line offers a universal print coating optimized for commercial sheet-fed and heat-set web offset, HP Indigo (LEP) and dry toner (EP) presses. A range of sheet sizes are stocked for quick and ready access to the design community.
Monadnock Paper Mills, Inc. (MPM) provides and custom engineers a diverse range of products including technical/specialty papers, and premium printing and packaging papers for leading brands worldwide. To learn more, visit: www.mpm.com.
SOURCE: Monadnock Paper Mills, Inc.