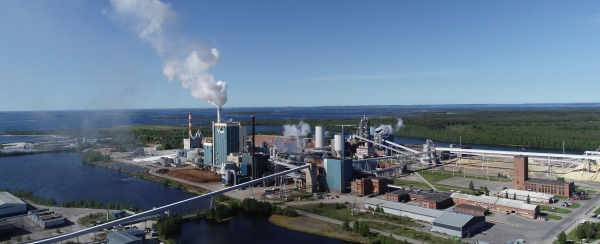 Metsä Fibre Signs Preliminary Agreement with ABB for the Supply of Electrical Systems at New Bioproduct Mill in Kemi, Finland
May 14, 2020 - Metsä Fibre has signed a preliminary agreement with ABB to supply electrical systems for Metsä Fibre's new bioproduct mill to be built in Kemi, Finland.
The new bioproduct mill will replace the current Kemi pulp mill (pictured above), which has an annual capacity of approximately 620,000 tonnes of sulphate pulp. The new mill is expected to have an annual production capacity of about 1.5 million tonnes of softwood and hardwood pulp as well as numerous other bioproducts.
Metsä Fibre's total investment in the new bioproduct mill is approximately EUR 1.5 billion.
The preliminary agreement between Metsä Fibre and ABB involves a significant amount of electrification and drives technology that is developed and manufactured in Finland at ABB's facilities in Vaasa and Helsinki, which includes the electrical systems for the entire bioproduct mill, as well as installations from high-voltage grid to mill's internal electricity distribution system and electric motors.
The value of the total delivery from ABB would be approximately EUR 40 million.
In addition to ABB, three other main partners have already been selected for the bioproduct mill project. Valmet would supply all the main equipment and automation, Fimpec would be the contractor for civil construction, and AFRY would be responsible for the engineering of the construction phase.
Upon completion of the new mill, it would employ approximately 250 people directly, and approximately 2,500 in its entire direct value chain in Finland. This is about 1,500 more employees than the current Kemi pulp mill.
The bioproduct mill's annual use of pulpwood, mainly procured in Finland, would be approximately 7.6 million cubic metres — 4.5 million cubic metres more than the present pulp mill.
The new mill would not use any fossil fuels, and its electricity self-sufficiency rate would be 250 percent. This would strengthen Metsä Group's leading position as an electricity producer based on renewable Finnish fuels.
Metsä Fibre is a leading producer of bioproducts and bioenergy. Metsä Fibre produces pulp and other bioproducts at four mills in Finland: Joutseno, Kemi, Rauma and Äänekoski; and also has six sawmills: Kyrö, Lappeenranta, Merikarvia, Renko and Vilppula (in Finland) and in addition, Metsä Svir sawmill in Russia. For further information visit: www.metsafibre.com.
SOURCE: Metsä Fibre
Go to a related story on PaperAge.com:
» Metsä Fibre Ready to Begin Second-Phase Prep Work for $1.5 Billion Bioproduct Mill in Kemi, Finland - April 1, 2020.