Sappi Europe Reports a Fire Involving PM 3 at its Alfeld Mill in Germany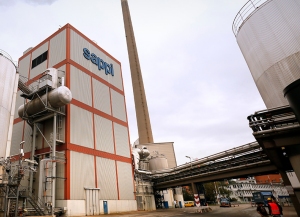 The fire occured in the area of paper machine 3 (PM3), which produces one-side coated specialty papers. Sappi said that no injuries have been reported and all other paper machines remain in operation.
May 13, 2020 - Sappi Europe reported that in the early evening on May 12 a fire occurred at its Alfeld Mill in Germany around the area of paper machine 3 (PM3).
Sappi said there were no reported injuries and an evaluation by investigators is underway to assess the cause of the fire and the resulting damage to the paper machine.
Sappi can confirm that all other paper machines at the site are fully operational and sales staff will be directly in contact with their customers to keep them updated with any impact caused by this incident.
About Alfeld Mill
Sappi's Alfeld Mill produces specialty paper grades on five paper machines with a combined capacity of 275,000 tons per year. The mill also produces 120,000 tons per year of totally chlorine-free (TCF) bleached chemical pulp, which it uses internally for paper production.
PM1 produces SBS board. The products get one- or both-side coated on an off-line coater.
PM2, PM3, PM4 and PM5 produce one-side coated specialty papers supported by a huge MG or Yankee cylinder (one-side glazed). PM2, PM3 and PM4 further feature an in-line coater to fulfill the special demands of paper surfaces in the specialty paper business.
Headquartered in Brussels, Belgium, Sappi Europe SA is a leading European producer of coated fine paper used in premium magazines, catalogues, books and high-end print advertising. To learn more, visit: www.sappi.com.
SOURCE: Sappi Europe