Nippon Paper Industries Completes Acquisition of Orora's Paperboard and Converting Business in Australia/New Zealand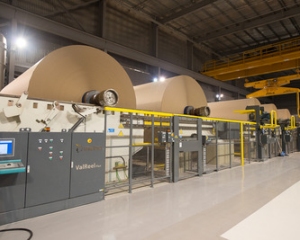 Installed in 2012, the B9 paper machine at the former Orora Botany paper mill in Matraville, New South Wales, Australia, produces almost 400,000 tonnes of recycled containerboard grades per year. B9 uses 100% recycled fiber from domestic containerboard and mixed wastepaper.
April 30, 2020 - Nippon Paper Industries and its wholly owned subsidiary, Paper Australia Pty Ltd, today announced the completion of the purchase of Orora Limited's paperboard and fibre based packaging business in Australia/New Zealand.
Nippon Paper first announced the deal in October of 2019. At that time, the enterprise value of the acquisition was AUD 1.72 billion in cash, subject to adjustment for movements in working capital and debt items.
"Orora has established strong operations in Australia and New Zealand through a comprehensive business model combining a wastepaper collecting system with cutting-edge corrugated base paper manufacturing, highly automated cardboard production and the provision of packaging-related materials and associated services," Nippon Paper said.
"Through the acquisition of the Business, Nippon Paper Group will be entering the integrated corrugated paperboard manufacturing business in the Oceania region. Nippon Paper seeks not only to augment the synergistic effects with [Paper Australia], but also plans to further build the Group's packaging business on a global scale," the company added.
Together with Australian Paper's existing business, the acquired assets and business has been incorporated into new wholly owned subsidiaries of Australian Paper, together known as "Opal", a vertically integrated paper and packaging solution business.
Nippon Paper has appointed its Director, Mr. Masanobu Iizuka, as the CEO of Opal, effective June 25, 2020.
The Opal business includes the collection of wastepaper under its own system, manufacturing packaging board with modern facilities, converting board into packaging boxes through highly automated production, and supplying ancillary materials and associated services.
Nippon Paper Industries said that it is focused on the development of its packaging segment businesses, including Opal as a growth area.
About Nippon Paper Industries
Nippon Paper Industries produces coated and uncoated paper, including specialty grades, and paperboard. To learn more about Nippon Paper Industries, please visit: www.nipponpapergroup.com.
SOURCE: Nippon Paper Industries Co., Ltd.