Ahlstrom-Munksjö CEO Reports Solid First Quarter 2020 Results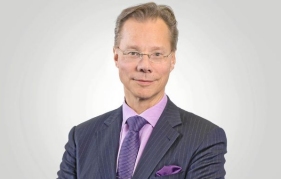 "We made a strong improvement in comparable EBITDA and the achieved margin of 12.8% was the highest in two and a half years. Our sales volumes recovered as expected and customer activity was at a good level for most of the quarter." – Hans Sohlström, President and CEO, Ahlstrom-Munksjö.
April 23, 2020 - Ahlstrom-Munksjö president and CEO, Hans Sohlström, said his company performed well in the first quarter of 2020 and it is taking rapid response to fight the pandemic as the safety of employees is of utmost importance.
"We made a strong improvement in comparable EBITDA and the achieved margin of 12.8% was the highest in two and a half years. Our sales volumes recovered as expected and customer activity was at a good level for most of the quarter, while the coronavirus pandemic started to have an impact on our business towards the end of the reporting period.
"During the quarter we were able to strengthen our balance sheet, thanks to the improved profitability and sale of the fine art business, and we have strong liquidity going forward with no major near-term refinancing needs."
Swift Response to the Pandemic
"The spread of the COVID-19 virus around the world has created strong demand for healthcare goods in general, and specifically for protective medical products that are made from our fabrics. We are leveraging our in-depth knowledge of fiber-based solutions and global manufacturing platform to support our customers in the healthcare industry globally as well as in the communities where we operate.
"During the first quarter, our Medical business has nearly tripled face mask fabric production. We have also expanded the production of face mask fabrics to production lines normally used for industrial filtration materials at the plants in Italy and Finland to fight the pandemic, and we are evaluating further expansion opportunities across our global manufacturing platform.
"Safety of our employees is of utmost importance and we initiated already in January a centralized crisis alert team to carry out a global pandemic contingency and preparedness response plan. Our COVID-19 Safety Protocol that we have applied across the organization has been elementary in keeping plants operational, while ensuring safety of our employees.
"We are currently implementing immediate actions, such as temporary layoffs, shorter working hours and minimizing the use of external personnel and services, to mitigate the financial impact as we expect our volumes to decline in the second quarter. Meanwhile, we continue to work on ensuring competitiveness in the longer-term and have identified additional streamlining opportunities in manufacturing fixed costs in the range of EUR 20 million, with gradual impact from the end of 2020 onwards."
Looking Ahead
"We are taking rapid response to fight the pandemic, while at the same time cushioning the negative financial impact. Our organization has performed very well in this unprecedented situation and this makes me proud. Together we can weather these difficult times and come out stronger than before."
Outlook for Q2/2020
"The overall demand outlook has become uncertain due to the outbreak of the COVID-19 pandemic. Very strong demand is expected to continue in the health care and life science end-use segments. Demand for consumer goods related products is expected to remain satisfactory, while decline in transportation, homebuilding and furniture, as well as in industrial related products. Ahlstrom-Munksjö's comparable EBITDA in the second quarter of 2020 is expected to be lower than in the second quarter of 2019 due to lower delivery volumes."
Short-term Risks
"As Ahlstrom-Munksjö manages a broad portfolio of businesses and serves a wide range of end uses globally, the company is not likely to be significantly affected on a group level by individual factors. However, uncertain global economic and financial market conditions could have a materially adverse effect on the Group, its results of operations and financial condition.
"The company's significant risks and uncertainty factors mainly consist of developments in demand for and prices of sold products, the cost and availability of significant raw materials and energy, financial risks, as well as other business factors including developments in global politics and the financial markets. The company's financial performance may be impacted by the timing of possible raw material price increases and its ability to raise selling prices.
"On-going trade disputes pose a threat to global economy, which may have an effect on Ahlstrom-Munksjö's markets. The financial impact of the coronavirus cannot be foreseen at this stage, it will depend on both the duration and severity of the pandemic and related measures taken to contain the pandemic.
"In the case of potential business combinations, substantial integration work is needed to realize expected synergies. The integrations of Expera and Caieiras are ongoing and according to plan, however, the risk also refers to future potential acquisitions.
"The company's key financial risks include interest rate and currency risks, liquidity risk and credit risk. To mitigate these risks, methods such as hedging and credit insurance are used. The Group has exposure to tax risks due to potential changes in tax laws or regulations or their application, or as a result of on-going or future tax audits or claims.
"The company has operations in many countries, and sometimes disputes cannot be avoided in daily operations. The company is sometimes involved in legal actions, disputes, claims for damages and other procedures. The result of these cannot be predicted, but taking into account all available information to date, the impact is not expected to have a significant impact on the financial position of the company."
Ahlstrom-Munksjö is a global leader in fiber-based materials. Products include: filter materials, release liners, food and beverage processing materials, decor papers, abrasive and tape backings, electrotechnical paper, glass fiber materials, medical fiber materials and solutions for diagnostics as well as a range of specialty papers for industrial and consumer end-uses. For further information, visit: www.ahlstrom-munksjo.com.
SOURCE: Ahlstrom-Munksjö