Marcal Paper Is Officially Back in Business, Papermaking Operations Restarted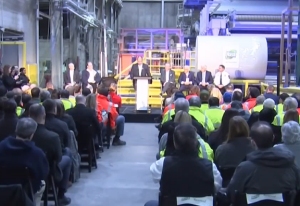 Marcal Paper CEO Rob Baron addresses the crowd at an event held Jan. 31 to commemorate the official restart of papermaking operations at the Elmwood Park, New Jersey, paper mill.
Feb. 1, 2020 - Marcal Paper hosted an event Jan. 31 to commemorate the official restart of papermaking operations in Elmwood Park, New Jersey and thank those across New Jersey who aided in its recovery, one year after a ten-alarm fire destroyed the company's iconic mill and shut down operations.
Chief Executive Officer Rob Baron and dozens of company associates were joined by dozens of workers, Governor Phil Murphy, Congressman Bill Pascrell, Jr., first responders, the United Steelworkers, state legislators, local officials and many community partners.
"Marcal Paper is officially back in business," Baron announced to a cheering crowd inside the mill on Friday.
"Today we officially announced the restart of regular papermaking operations in Elmwood Park, one year to the day after a ten-alarm fire destroyed the iconic Marcal Paper mill," said Baron. "The prospect of such an announcement — of restarting a viable paper manufacturing business at the site — seemed impossible to any of us who were there one year ago.
"We are thrilled to welcome back dozens of good people into full-time jobs, and work to restore customer confidence. We will start the long journey of creating a great company from the ground up, once again. Thanks to the remarkable support we've received and the determination of our team, the Marcal story will have another chapter."
Rob Baron talked with reporters after the official ceremony designating the restart of the mill. "Our goal is to continue to grow this business."
New Jersey Governor Phil Murphy added, "One year ago, I toured what remained of the historic Marcal factory only hours after a devastating fire. What a difference a year makes. Today, I am proud to be here for the re-opening of Marcal in Elmwood Park, and thankful that this factory will again bring jobs and opportunity to this community. I wish those at Marcal nothing but the best as they restart operations and look forward to following this new chapter in the history of one of New Jersey's truly iconic companies."
Baron said he and others at the mill were determined to rebuild the operation. "The team would come into my office and say, 'I'm staying if you're staying; let's do this'. . . I never thought about walking away."
Baron said it's going to be a challenge moving forward. "Our goal is to continue to grow this business. But we lost in eight hours; we lost eighty years of customers. There is no magic bullet; there is no simple way to get back . . . it's going to take time."
Currently, the mill is operating one paper machine with about 100 workers back on the job.
About Marcal
Marcal produces tissue that is a great entry-level-product for any retailer. The product is now softer and brighter than ever, absorbent, strong, whitened without chlorine bleach, no added fragrances, hypoallergenic, septic safe bath tissue, virtually lint-free, and 100% sustainable. To lean more or contact the company, visit: www.marcalpaper.com.
SOURCE: Marcal Paper and local news reports