Paper Mill Workers in Finland Begin Widespread Strikes, Mediation to Continue Tuesday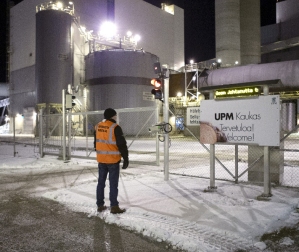 The Paper Workers' Union has estimated that 9,000 of its members will participate in the weeks-long strike that shuts down pulp and paper mills across the country starting at 6am today. (Lauri Heino – Lehtikuva)
Jan. 27, 2020 (Helsinki Times) - Widespread strikes began this morning in the pulp and paper industry after an unsuccessful last-minute attempt to mediate a settlement to the labour dispute between Finnish Forest Industries and the Finnish Paper Workers' Union.
The Paper Workers' Union has estimated that 9,000 of its members will participate in the weeks-long strike that shuts down pulp and paper mills across the country starting at 6am today.
The union announced earlier yesterday it will extend the strike for another week to last until 16 February.
Jyrki Hollmén, the director of industrial relations at Finnish Forest Industries, told STT in the early hours of today that the negotiations were promising but failed to produce a settlement to the dispute. Spokespeople for the Paper Workers' Union were unavailable for a comment after the suspension of the talks, but the union stated on its website that the parties remained far apart in their views at 9pm on Sunday.
The labour market organisations will re-convene on Tuesday, 28 January, according to the Office of the National Conciliator.
Finnish Forest Industries on Sunday announced it will enforce a lockout at a total of 12 pulp, paper and cardboard mills in an attempt to find an agreement in the negotiations that improves the cost competitiveness of forest industry companies by a minimum of 30 per cent, wrote Helsingin Sanomat.
The three-day lockout will apply to members of Paper Workers' Union, Trade Union Pro and Finnish Electrical Workers' Union as of 10 February.
Go to the complete article at the Helsinki Times: Helsinki Times
SOURCE: Helsinki Times